UK Researchers Investigate the Role of Oral Health Professionals in Reducing Obesity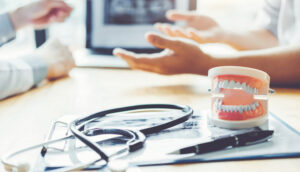 Obesity is a significant problem around the world. According to the World Health Organization, obesity reached epidemic levels in in June 2021 with rates having tripled since 1975. Overweight and obesity combined are directly responsible for the deaths of at least 2.8 million people across the globe. Defined as an abnormal or excessive accumulation of fat, these conditions are risk factors for illnesses such as type 2 diabetes, cancer, and heart disease. But they are preventable.1 Of course, dieting and exercise are standby remedies for those seeking to lose weight. But new research, funded by the National Institute for Health Research at Loughborough University in the United Kingdom may offer additional ammunition.2
AN ASSIST FROM THE DENTAL PROFESSION
Led by Professor of Behavioural Medicine Amanda Daley, PhD, at the university's Centre for Lifestyle Medicine and Behaviour, researchers will investigate the role oral health professionals may play in reducing obesity prevalence. Working directly with oral health professionals, researchers aim to assess ways in which they may be able to help their patients through weight management interventions.3
Daley notes that this type of intervention makes sense because oral health professionals have already been counseling their patients on smoking cessation and intake of sugar, which is an important contributor to obesity. In fact, says Daley, "Obesity is associated with diabetes and dental professionals routinely question patients on whether they have been diagnosed with diabetes because of its link with periodontal diseases. Dental practitioners should therefore have a vested interest in the management of obesity."3
PARTNERING WITH PATIENTS
Delivering behavior-change messages, particularly to children, regarding sugar and sugar-sweetened beverage consumption would simply be a next logical step. And it's a step that apparently won't meet much resistance. 
Daley notes that oral health professionals have indicated a willingness to intervene to help reduce obesity. There are also signs the public would embrace weight management support from dental professionals.2,3
PUTTING THE PIECES TOGETHER
Training for oral health professionals on how to have constructive conversations about weight management will be provided via the UK's National Health Service's Making Every Contact Count Campaign.2 
Daley notes that because oral health professionals are a critical part of the primary health services team, and typically see patients on a yearly basis, they have an important role to play in screening and intervention to reduce obesity. Yet, she feels the importance of this role has been long overlooked. Says Daley, "If we are serious about reducing obesity in the population it will require an 'all hands-on deck' approach, including active advocacy from dental health professionals."3 A critical part of the study, Daley stresses, is the assessment of feedback from both dental teams and patients as part of the research. She hopes to develop a program over the next 2 years to investigate the feasibility of screening for obesity and delivering brief weight management interventions to the public within dental settings.2,3
REFERENCES
World Health Organization. Obesity and Overweight. Click here.
Loughborough University. Research to Examine Role Dentists Can Play in Tackling Obesity Crisis. Click here.
Daley AJ. Time to get our teeth into reducing obesity: should dentists screen and deliver interventions to obesity in the population? Br Dent J. 2022;232:78–79.