PeriRx, LLC Officially Launches SaliMark OSCC Test for Oral Squamous Cell Carcinoma
PeriRx, LLC Officially Launches SaliMark™ OSCC Test for Oral Squamous Cell Carcinoma The SaliMark™ OSCC Salivary Diagnostic Test is Available Now Through Henry Schein, Paterson and Benco   Broomall, PA – August 26, 2015 – PeriRx LLC, a premier developer
PeriRx, LLC Officially Launches SaliMark™ OSCC Test

for Oral Squamous Cell Carcinoma
The SaliMark™ OSCC Salivary Diagnostic Test is Available Now

Through Henry Schein, Paterson and Benco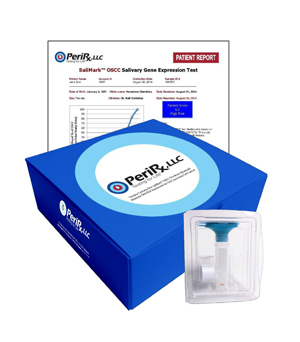 Broomall, PA – August 26, 2015 – PeriRx LLC, a premier developer of breakthrough, non-invasive, oral diagnostic technology, has officially launched SaliMark™ OSCC, an advanced molecular DNA test for the early detection of oral squamous cell carcinoma. The salivary test is now available from the online ordering systems of Henry Schein Dental, Patterson Dental and Benco Dental*.
"We're very excited to bring this accurate, easy-to-use and non-invasive oral cancer screening tool to market," said Stephen M. Swanick, CEO and founder of PeriRx, LLC. "The fact that these three leading dental suppliers all agreed to distribute SaliMark™ OSCC is a not only a testament to its efficacy but also their recognition of the test's strong potential to lower the mortality rate of what the National Institute of Health says is the world's sixth leading cause of cancer, which kills one American every hour of every day."
Development of this simple-to-use, painless and noninvasive test was based on the strong scientific foundation of NIH-funded research with initial discovery and pre-validation work conducted by Dr. David Wong of the University of California at Los Angeles. What's more, more than a decade of National Institute of Dental and Craniofacial Research and National Institute of Health-supported research make SaliMark™ OSCC the world's most scientifically-validated molecular DNA biomarker test for oral squamous cell carcinoma.
The test is indicated for use when a visual oral examination (via naked eye or fluorescent device) detects a suspicious lesion or oral mucosal abnormality. SaliMark™ OSCC's highly-accurate risk assessment capabilities can help the clinician make a more informed and confident decision on whether to refer the patient to a specialist for a biopsy.
"Although biopsies are the gold standard for determining pathology, they are invasive procedures that come back negative 90% of the time," explained Swanick. "SaliMark™ will greatly improve the efficiency and accuracy of any oral cancer exam protocol."
For more information about PeriRx, LLC or its SaliMark™ OSCC salivary test for oral squamous cell carcinoma, including scientific data, presentations, videos, peer-reviewed dental journal articles and product literature, visit www.PeriRx.com, call 610-544-3500 or send an email to info@PeriRx.com.
*Not yet approved for sale in the state of New York. Regulatory approval process is currently in progress. However, New York dentists who pre-register their practices online will be kept on file and notified immediately when SaliMark™ is approved for sale and use in their state.
# # #