NYU College of Dentistry Henry Schein Cares Global Student Outreach Program Provides Free Dental Care to More Than 150 Children in Poughkeepsie, NY
NYU College of Dentistry Henry Schein Cares Global Student Outreach Program Provides Free Dental Care to More Than 150 Children in Poughkeepsie, NY   Melville, N.Y., June 24, 2015 – The NYU College of Dentistry Henry Schein Cares Global Student
NYU College of Dentistry Henry Schein Cares Global Student Outreach Program Provides Free Dental Care to More Than 150 Children in Poughkeepsie, NY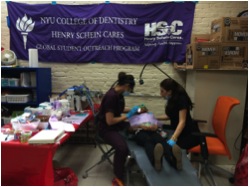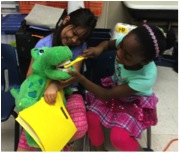 Melville, N.Y., June 24, 2015 – The NYU College of Dentistry Henry Schein Cares Global Student Outreach Program recently provided free dental care to more than 150 children in the local community of Poughkeepsie, NY from June 8-12, 2015. In partnership with the Poughkeepsie City School District (PCSD), this mission marked the program's fifth visit to Poughkeepsie offering oral health services to any child enrolled in the PCSD and Head Start program in Dutchess County.
As part of the NYUCD Henry Schein Cares Global Student Outreach Program, NYUCD faculty, dental students, dental residents and dental hygienists participate in outreach programs, providing free oral health care education, emergency dental services, screenings, sealant application, and restorative treatment to underserved communities throughout the United States, Central and South America, and Asia.
Henry Schein Cares, the global corporate social responsibility program of Henry Schein, Inc., provides the dental supplies for each of the program's missions taking place throughout the year. The program has provided care to more than 50,000 children and adults in underserved communities within and outside the United States.
# # #