Hu-Friedy Launches eBook on How To Be A Happy Hygienist
Hu Friedy Launches eBook on How To Be A Happy Hygienist Chicago, IL, April 6th, 2015 — Please find information regarding Hu Friedy eBook – How to be a Happy Hygienist Simple Tips to Enjoy Every Day at Work. The
Hu-Friedy Launches eBook on How To Be A Happy Hygienist
Chicago, IL, April 6th, 2015 — Please find information regarding Hu-Friedy eBook – How to be a Happy Hygienist: Simple Tips to Enjoy Every Day at Work.
The eBook outlines five key steps that will help get hygienists on the right track to happiness in the workplace: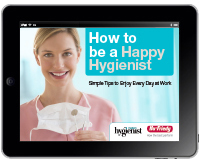 Ask for what you want
Act like a business partner
Champion your team
Communicate
Keep learning
Also available is the helpful "5 Ways to Avoid Sabotaging Your Work Day" eBook companion, which offers 5 tips on how to approach your day to achieve success.
More than 1,000 hygienists shared their thoughts for this eBook which also includes comments from three leading KOLs.
Download the e-book here.
# # #