Hu-Friedy Introduces Most Advanced Hand Scaling Instrumentation
Hu Friedy Introduces Most Advanced Hand Scaling Instrumentation EverEdge® 2.0 scientifically proven to be sharpest, longest lasting scaler   CHICAGO (Feb. 25, 2016) – Hu Friedy, a global leader in the manufacturing of dental instruments and products, today introduced EverEdge
Hu-Friedy Introduces Most Advanced Hand Scaling Instrumentation
EverEdge® 2.0 scientifically-proven to be sharpest, longest lasting scaler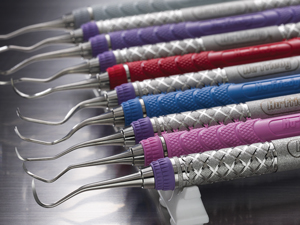 CHICAGO (Feb. 25, 2016) – Hu-Friedy, a global leader in the manufacturing of dental instruments and products, today introduced EverEdge 2.0, its latest innovation in hand scaling instrumentation, designed to help clinicians achieve the best clinical outcomes.
Leveraging decades of instrument making experience, Hu-Friedy developed EverEdge 2.0 using a proprietary heat treatment process and enhanced finishing techniques. The optimized steel of EverEdge 2.0 has superior edge retention and wear characteristics that will last the entire life of the instrument. Since it's not a superficial coating, these characteristics cannot be removed through use or sharpening. EverEdge 2.0 Scalers can be resharpened at any point to extend their life and value.
"Hu-Friedy introduced our original EverEdge scalers ten years ago to satisfy practitioners' desire for a sharper instrument that lasts longer," shares Ron Saslow, Hu-Friedy CEO and Chairman of the Board. "While EverEdge scalers quickly became, and remain, the top selling scaler brand in the world, we challenged ourselves to develop an even more advanced instrument to help practitioners perform at their best. We are very proud of the result, EverEdge 2.0, which allows clinicians to deliver the best possible outcomes for their patients."
Understanding the critical importance of scientific evidence in supporting product performance, Hu-Friedy engaged an independent third-party laboratory specializing in blade technology, CATRA, to conduct a detailed scientific sharpness test. The independent test evaluated EverEdge 2.0 and several competitive scalers on two items: sharpness of the scalers when brand new and sharpness after repeated use.
The test results show that Hu-Friedy EverEdge 2.0 is 72% sharper out of the box than the next closest competitor. After repeated use (500 strokes), EverEdge 2.0 remains 50% sharper than the next closest competitor.
"The goal of this scientific study was to provide objective information about which scaler starts sharper and stays sharper longer, because that is what clinicians need in order to provide the best patient experience," shares Ken Serota, president of Hu-Friedy. "The research on EverEdge 2.0 both validates and supports that goal."
Dental hygiene textbooks and educators acknowledge that sharper scalers are critical for effective removal of deposits during oral prophylaxis procedures.
A sharper scaler is better because it is more:
Clinically effective since calculus is easily removed, not burnished;
Comfortable for clinicians, causing less hand and wrist fatigue;
Comfortable for patients due to less pressure needed for calculus removal;
Efficient as less time is needed to scale
EverEdge 2.0 instruments are available in the popular original EverEdge diamond-knurled, large-diameter handle, as well as the Resin 8 Colors handle, a lightweight resin handle featuring a color-coded system to easily identify scalers and curettes that correspond to areas of the mouth. The new purple grips allow for easy identification of the EverEdge 2.0 scalers in each set-up.
For more information about Hu-Friedy's EverEdge 2.0 instruments, please call 1-800-HU-FRIEDY or visit www.hu-friedy.com/EE2.
# # #