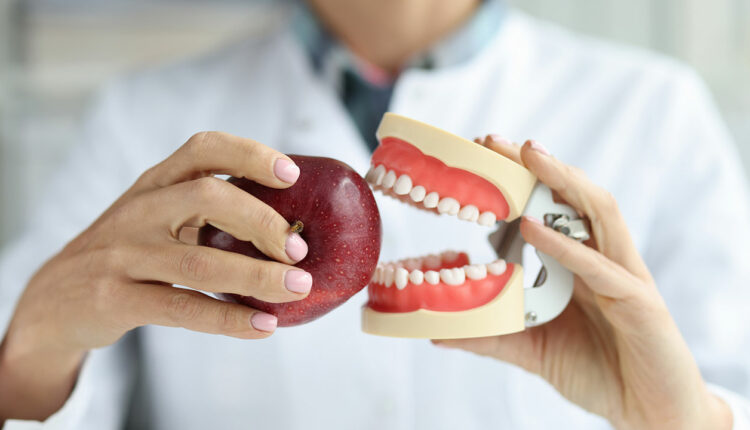 megaflopp / iStock / Getty Images Plus
Denture Use and Nutrition
Impaired mastication not only affects a patient's ability to chew properly but also leads to malnutrition.
Dentures have historically been the standard of care when treating fully edentulous patients. Replacement of missing teeth is important for the reconstruction of occlusal support and mastication. Although dentures may replace missing teeth, they function at a much-reduced level when compared to natural teeth. This is particularly true in the aging patient. Among this population, esthetics is rarely an issue — but the lack of being able to chew properly and embarrassment of having ill-fitting dentures are another story.
Especially as we age, our nutritional needs become a major factor in overall health. Of course, nutrition starts in the mouth, where masticating food makes it easier to swallow and also initiates digestion due to the amylase enzyme found in saliva. Amylase helps digest larger carbohydrates into smaller forms and reduces starch to a disaccharide-like maltose. Therefore, denture wearing — particularly among those with ill-fitting appliances — can be associated with malnutrition due to the reduced ability to properly masticate.
In a 2022 cross-sectional study of older adults in long-term care, Meguro et al1 reported that denture use was directly linked to lip-closure ability and significantly associated with malnutrition. The authors further suggested that wearing dentures for tooth loss and maintaining oral function contributes to this poor nutritional status.
Reference
Meguro A, Ohara Y, Iwasaki M, et al. Denture wearing is associated with nutritional status among older adults requiring long-term care: a cross-sectional study. J Dent Sci. 2022;17:500–506.
This information originally appeared in Hottel T, Chirla C. Expanding applications for dental implants. Dimensions of Dental Hygiene. 2023; 21(6):40-43.