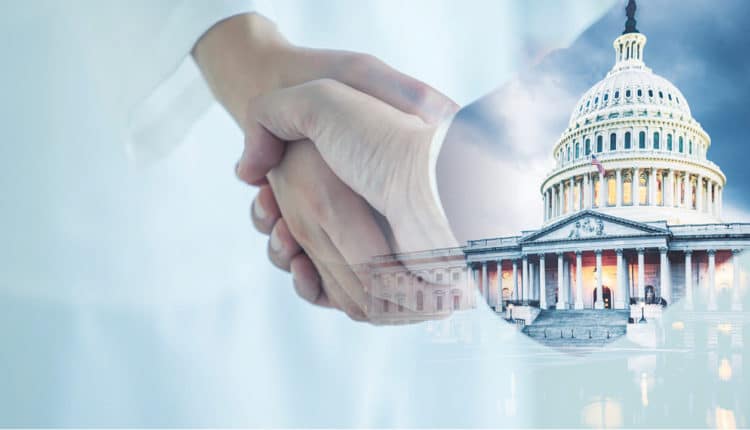 HIGHNUMBER/ISTOCK/GETTY IMAGES PLUS; USCHOOLS/ISTOCK/GETTY IMAGES PLUS
Dental Therapy Progresses
The American Dental Hygienists' Association continues advocating for reforms to expand the reach of dental hygienist-based dental therapy models, as well as high educational standards.
It has been 9 years since the Minnesota legislature enacted law to create the country's first state authorized dental therapists. Dental therapists in Minnesota have proven to be safe and effective additions to the oral health care delivery team. Today, there are 89 dental therapists licensed to practice in Minnesota. Notably, many are dually licensed as dental therapists and dental hygienists. In 2018, Arizona and Washington passed legislation creating dental therapists. They now join Minnesota, Maine, and Vermont in the authorization of dental therapists. In Washington, the bill allows Native American tribes to receive federal funds to sustain tribal clinics that utilize dental therapists. Further legislation will be required to expand dental therapy across the state of Washington. In Arizona, the dental therapy scope of practice is based primarily on the services identified in the Commission on Dental Accreditation (CODA) Standards for Dental Therapy Education Programs. An applicant for dental therapy licensure in Arizona must also be a licensed dental hygienist. The law provides that dental therapists, after practicing 1,000 hours under direct supervision, can work with general supervision, pursuant to a collaborative agreement.
ROLE OF THE FEDERAL TRADE COMMISSION
The United States Federal Trade Commission (FTC) promotes consumer protection and the elimination and prevention of anti-competitive business practices. The FTC has provided comment on proposed dental therapy legislation in Ohio. At the request of Senator Peggy Lehner, the FTC submitted a comment letter to the Ohio State Senate on Senate Bill 330, an Act to Establish Licensing Requirements for Dental Therapists. Senator Lehner asked the FTC to provide comment on the likely competitive impact of the bill in increasing access to care by authorizing dental therapy. SB 330 would broaden dental hygienists' abilities to work without a supervising dentist on-site and establish dental therapy.
In a letter to Senator Lehner, the FTC responded, "By potentially broadening the ability of dental hygienists to work under general supervision and by providing for the licensure of dental therapists, SB 330 could benefit consumers by increasing choice, competition, and access to care, especially for the underserved. The ability of dental hygienists and dental therapists to work without a dentist on-site is particularly important in underserved areas, where dentists may not be available."
Several states are expected to have dental therapy legislation in the coming year, including Connecticut, Florida, Kansas, Maryland, Massachusetts, Michigan, Mississippi, New Mexico, Ohio, Washington, and Wisconsin. The American Dental Hygienists' Association (ADHA) encourages dental hygienists to connect with their state association to learn more about ongoing efforts in their states.
DENTAL HYGIENE DIAGNOSIS
The ADHA continues to advocate for the inclusion of dental hygiene diagnosis into the Accreditation Standards for Dental Hygiene Education Programs, despite opposition by CODA. "Dental hygiene treatment plan" and "dental hygiene diagnosis" had been part of the CODA Accreditation Standards for Dental Hygiene Education Programs since 1998; however, CODA removed the terms in 2010, leaving only "dental hygiene diagnosis" as part of the "Definitions of Terms Used in Dental Hygiene Accreditation Standards." CODA has defined "dental hygiene diagnosis" as the "identification of an existing or potential oral health problem that a dental hygienist is qualified and licensed to treat." The ADHA sought to revise the definition to include "identification of an individual's health behaviors, attitudes, and oral health care needs." While CODA opposed the change, this does not alter the responsibilities of dental hygienists nor the curriculum taught by dental hygiene educators that teaches students the dental hygiene process of care, which includes dental hygiene diagnosis.
The ADHA proposed a new definition for "dental hygiene process of care" that included assessment, dental hygiene diagnosis, planning, implementation, evaluation, and documentation, but it was not adopted. To provide clarity and reflect the evolving health care delivery team, a definition for "interprofessional education" was proposed. CODA did not adopt the definition. CODA did approve an addition to Standard 2-24, Curriculum Management to provide "a defined mechanism to calibrate dental hygiene faculty for student clinical evaluation."
At the summer 2018 CODA meeting, a revision to standard 2-12, Patient Care Competencies, that would add "special needs patients" was proposed. This revision is up for discussion among communities of interest through June 1, 2019. The ADHA supports the highest level of health for all people and the elimination of health disparities.
The ADHA will continue its national advocacy efforts and press for advances in dental hygiene education standards. Dedicated to uniting, empowering, and supporting dental hygienists throughout their careers, the ADHA is also committed to advancing dental hygiene programs to best prepare graduates for the evolving profession of dental hygiene. For more information, visit adha.org.
From Perspectives on the Midlevel Practitioner, a supplement to Dimensions of Dental Hygiene. October 2018;5(10):21–22.