Carecredit Donation To Ada Foundation Funds Give Kids A Smile® Nascar® Oral Health Education Events For Boys And Girls Clubs Of Indianapolis
Carecredit Donation To Ada Foundation Funds Give Kids A Smile® Nascar® Oral Health Education Events For Boys And Girls Clubs Of IndianapolisCarecredit Donation To Ada Foundation Funds Give Kids A Smile® Nascar® Oral Health Education Events For Boys And Girls
Carecredit Donation To Ada Foundation Funds Give Kids A Smile® Nascar® Oral Health Education Events For Boys And Girls Clubs Of Indianapolis
Carecredit Donation To Ada Foundation Funds Give Kids A Smile® Nascar® Oral Health Education Events For Boys And Girls Clubs Of Indianapolis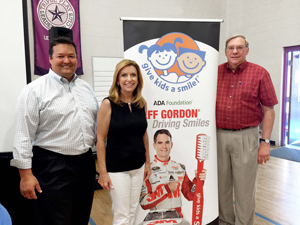 COSTA MESA, Calif. – September 17, 2015 – As part of CareCredit's support of Give Kids A Smile (GKAS), the American Dental Association Foundation's premier outreach program, a portion of the company's 2015 $100,000 donation to ADA Foundation GKAS Fund was used to sponsor an oral health education event for over 500 students in the Boys & Girls Club of Indianapolis recently.
During the events at the LeGore Boys & Girls Club and Keenan-Stahl Boys & Girls Club, students watched a special video message from Jeff Gordon, the four-time NASCAR Cup Series champion and the 2015 ambassador for the GKAS-NASCAR Oral Health Education Program, and met the host of NASCAR on Sirius and PRN, Brad Gillie. These events were part of NASCAR race week in July. The students also learned about the importance of good oral health through the 2min2x campaign created by the Ad Council. The campaign encourages kids to spend two minutes brushing their teeth, two times a day. Children also had an opportunity to take pictures in front of the #24 show car, play oral health related educational games and receive free oral health goody bags which included a Spinbrush™, toothpaste, floss, sugar-free gum and oral health educational materials.
"It's our mission to help our children prosper and reach their full potential," stated LeeAnn Harris, director of club operations, Boys & Girls Clubs of Indianapolis. "Events like this one go a long way in supporting our kids on a journey to become knowledgeable, healthy, engaged, responsible and caring people."
"Proper brushing, flossing and making smart food choices can have a huge impact on the oral health of children and it's what these events are all about," added Cindy Hearn, senior vice president for CareCredit, member of the GKAS Committee and ADA Foundation board of directors. "As a founding and annual donor to the ADA Foundation GKAS Fund, we are pleased a portion of the grant was used to share this knowledge with these wonderful young people at the Boys & Girls Clubs."
For more information about the GKAS events, visit facebook.com/GiveKidsASmile or follow GKAS on Twitter @GiveKidsASmile.
# # #