Boys Girls Clubs Of Indianapolis Members Race For Good Dental Health With Nascar Star Jeff Gordon
Boys & Girls Clubs Of Indianapolis Members Race For Good Dental Health With Nascar Star Jeff Gordon, The No. 24 3m Chevrolet Ss, 3m Espe Dental And The Ada Foundation's "give Kids A Smile®" Program Gordon's No. 24 3M Race
Boys & Girls Clubs Of Indianapolis Members Race For Good Dental Health With Nascar Star Jeff Gordon, The No. 24 3m Chevrolet Ss, 3m Espe Dental And The Ada Foundation's "give Kids A Smile®" Program
Gordon's

No.

24

3M

Race

Car,

NASCAR

Celebrities

Help

Drive

Smiles

and

Dental

Health

through

Education

Programs

at

LeGore

Boys

&

Girls

Club

and

Keenan-Stahl

Boys

&

Girls

Club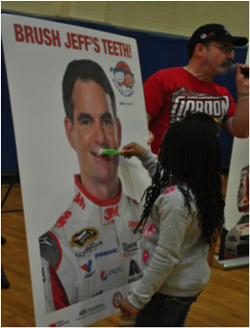 ST. PAUL, Minn., (July 28, 2015) – More than 500 students at LeGore Boys & Girls Club and Keenan-Stahl Boys & Girls Club in Indianapolis participated in a special high-speed oral health education event Thursday that left them with big smiles and new tips for improving their dental health. It was all thanks to NASCAR Cup Series champion Jeff Gordon, driver of the No. 24 3M Chevrolet SS, NASCAR celebrities, 3M ESPE Dental, the ADA Foundation's Give Kids A Smile® program, CareCredit, Henry Schein Cares and Church & Dwight.
The ADA Foundation's Give Kids A Smile program rolled into the Boys & Girls Clubs of Indianapolis as part of the race week at Indianapolis Motor Speedway. For the past four years, 3M ESPE Dental and 3M Racing have joined forces with the ADA Foundation to bring the Give Kids A Smile program to underserved youth and race fans in conjunction with NASCAR race weekends.
The students had a chance to hear from Jeff Gordon via video, learn more about NASCAR and 3M Racing from PRN and NASCAR on Sirius host Brad Gillie, and gain invaluable tips for improving their dental health from Dr. Jeff Dalin. They then got to play games and have their photo taken with the No. 24 3M Chevy SS race car. Every child received a dental gift bag including a Tooth Tunes Spinbrush, toothpaste, a pack of Wrigley Orbit sugar free gum, a dental tips sticker for their bathroom mirror, and a tips card for their parents.
"This is a great event that gets the kids excited about taking care of their dental health," said Dr. Jeff Dalin. "The racing theme makes it fun, and Jeff Gordon is very inspirational to them. When they see him smiling in victory lane, it makes them want have the same kind of smile."
Gordon, who joined forces with 3M for the 2015 season, is well known for his work with children around the world through Jeff Gordon Children's Foundation. Now he brings his passion for children's oral health to help educate children in need through community and school-based oral health educational programs.
"This season, our No. 24 3M Chevy SS team is excited to partner with 3M ESPE Dental and the ADA Foundation's Give Kids A Smile program to help drive smiles and good dental health for children in need," said Gordon. "When you look at the life-long impact that poor dental health can have on a young child, you see how important it is to help kids learn good dental health practices. It makes an incredible difference in their ability to learn, to eat nutritiously and have good self-esteem."
Gordon will help continue the momentum throughout the year. 3M ESPE Dental, the ADA Foundation, CareCredit, Henry Schein Cares, and Church & Dwight, will partner with NASCAR and the No. 24 3M team to deliver the message to some 10,000 underserved elementary school children in four additional race markets. Programs include fun-filled, high-speed oral health education events featuring the No. 24 3M Chevy SS team and race car. The goals of the ADA Foundation's Give Kids A Smile program are to eliminate dental cavities in kids under five and help children learn smart dental health practices that will drive healthy smiles for the rest of their lives.
As a father of two young children, Gordon understands the challenges that parents and caregivers have in getting kids to routinely practice good dental health habits.
"With good brushing and daily flossing, a smart diet and regular visits to the dentist, all kids can achieve good dental health," said Gordon. "It's all about brushing twice a day for two minutes. If we can sends kids home from an education event with that message, along with some tips to share with their family members, a great toothbrush, toothpaste and dental floss, we can get them on the right track for a terrific smile."
"The opportunity to work with Jeff Gordon to educate hundreds of thousands of race fans about good dental health is very powerful," said Jodi Case with 3M ESPE Dental. "And, we are excited to extend this education program throughout the entire dental community to reach millions more parents and caregivers. We are so proud to partner with other industry leaders to address this critical issue and drive smiles for children in need."
The ADA Foundation's Give Kids A Smile program, now in its 13th year, is an access-to-care program that includes more than 1,500 Give Kids A Smile events held throughout the year around the country, through which volunteer dentists and their teams provide free dental services to approximately 350,000 underserved children.
Important Oral Health Messages for Children and Caregivers
Children should brush for two minutes, twice a day. They should floss once a day as soon as their teeth touch and make smart food choices.
Baby teeth are important and they are at risk for decay as soon as they first appear. Children should see a dentist regularly starting around the time the first tooth erupts or no later than their first birthday.
The dentist can show you how to clean tiny teeth properly and how to evaluate habits like thumb sucking.
If you have a baby with sore or tender gums, gently rub the gums with a clean finger, cool spoon, or wet gauze to soothe the area.
Children older than two should brush their teeth with a pea-sized amount of fluoride toothpaste. Be sure they spit it out!
Cavity-causing bacteria can be passed from parent to child. Don't share a spoon or "clean" a pacifier with your mouth.
For more information and smart dental tips, visit www.adafoundation.org/give-kids-a-smile, www.3MESPE.com, www.2min2x.org, www.MouthHealthy.org and www.Facebook.com/GiveKidsASmile.
# # #