New User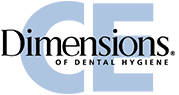 New User
Existing User
Help
Author

Lisa Mallonee, MPH, RDH, RD, LD
0 posts
0 comments
Lisa Mallonee, MPH, RDH, RD, LD, is a professor and graduate program director in the Caruth School of Dental Hygiene at Texas A&M
University College of Dentistry. She is also codirector of the Master of Science in Education for Healthcare Professionals program, and serves as a dietetic internship preceptor for Baylor University Medical Center's
Dietetic Internship Program.
Research suggests some birth control methods may increase periodontitis risk.
Commonly used in many cultures, miswak is a potential alternative oral hygiene method.
Research demonstrates the effects of arginine in destabilizing biofilm, decreasing enamel demineralization and dentinal hypersensitivity, and supporting remineralization.