New User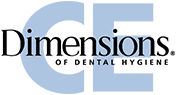 New User
Existing User
Help
Author

Adele Spencer, RDH, MS
0 posts
0 comments
Adele Spencer, RDH, MS, has been a practicing hygienist for more than 16 years. Currently, she is assistant professor at Farmingdale State University of New York (FSU) and the coordinator of freshmen students in the Dental Hygiene Program. Dedicated to promoting legislation to advance the profession of dental hygiene, she is also past president of the Long Island Dental Hygienists' Association. 
Educate your older adult patients about the risks of contracting sexually transmitted diseases.
Does cultural competency make a difference in the provision and efficacy of oral health care?
As the elderly population grows, dental hygienists can make a difference in promoting good health by encouraging medication compliance.