Improve Your Operational Performance While Protecting the Environment
The NXT DryVac by Solmetex, a tankless dry vacuum system, offers users efficiency at a low cost.
One of the first-ever tankless dry vacuum systems, the NXT DryVac system by Solmetex™ (Figure 1) is designed to provide superior operational performance with low acquisition costs and virtually no maintenance, all in a compact footprint for easy installation. The NXT DryVac's modular construction is a tankless central suction system that is 100% water free, with an integrated air/water separation system. The system is easy to install and its compact design requires significantly less water to operate, providing savings for the environment and your practice.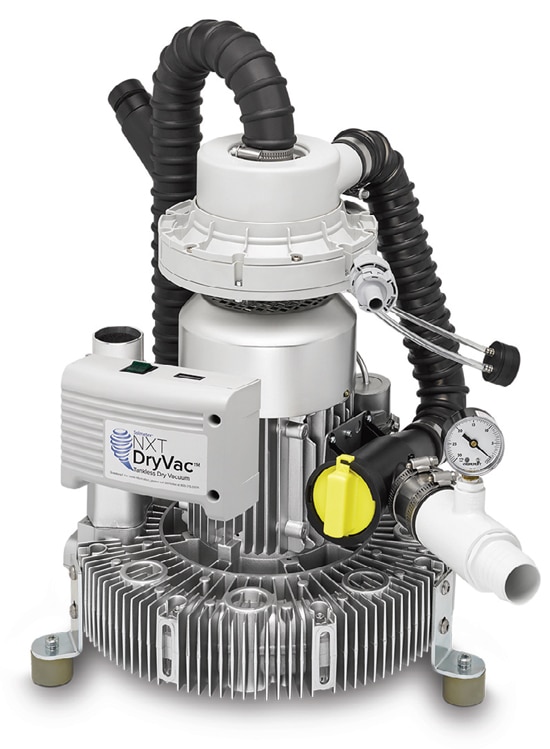 Features and Benefits
Lightweight tankless design: easy installation
Reliable, proven technology: superior performance, highly efficient vacuum power with low operating costs
Affordability: notably lower in cost than other dry vacuum systems
Eco-friendly: requires significantly less water to operate than wet vacuums, resulting in lower water utility bills
Reduced maintenance requirements: less exposure to minerals in the water equates to less need for maintenance and repairs
Simple installation: connects to most pre-existing plumbing
Small footprint: lightweight tankless design is especially helpful for offices with limited space
Quiet: moderate noise level
Expandable: easily connects up to two or three NXT DryVac hybrid devices
Underwriter Laboratories (UL) certified
Availability of an annual maintenance kit: Solmetex recommends the daily use of PowerScrub Vacuum Line Cleaner (Figure 2) to eliminate built-up debris in vacuum lines
Warranty: covers the motor for 5 years and parts for 2 years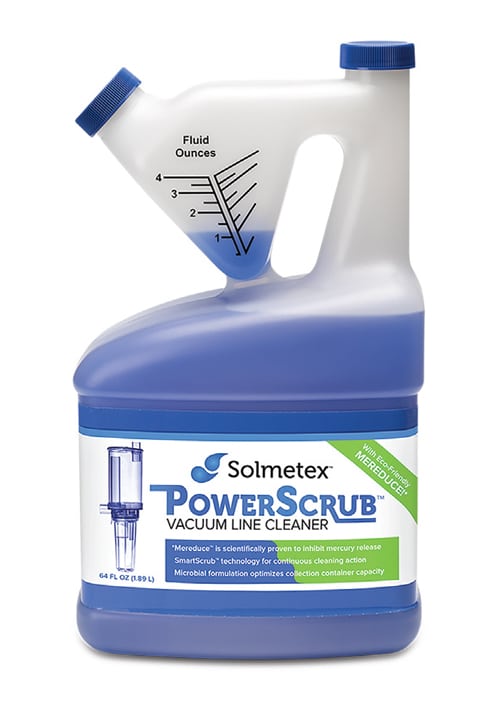 PowerScrub Vacuum Line Cleaner
Contains Mereduce™, which is scientifically proven to inhibit the release of harmful mercury

 

Solmetex recommends vacuum lines be cleaned on a daily basis with PowerScrub Vacuum Line Cleaner
Meets all Environmental Protection Agency "dental rule" requirements

 

Neutral pH level between 6 and 8
Compatible with all dental evacuation systems and all amalgam separators
Microbial formulation optimizes collection container capacity.
Solmetex
877-207-1551
From Dimensions of Dental Hygiene. June 2022; 20(6)25.