Hu-Friedy Offers the Essentials for Enhanced Intraoral Visualizaton
Looking to improve your view of the oral cavity?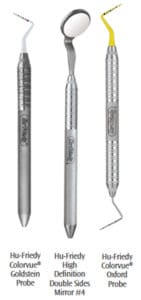 With more than 60 years of combined hands-on clinical experience and 30 years of combined coaching experience, Kim Miller, RDH, BSDH, and Emme Sanders, RDH, share their insights into intraoral visualization—helping you bring your options into focus.
LOUPES: TO WEAR OR NOT TO WEAR?
We believe each clinician should own a good pair of illuminated loupes. While working with dental hygienists all over the country, we find that many are resistant to incorporating loupes into their daily delivery of care. Change can be hard, especially change that impacts your vision.
When incorporating loupes ourselves, we have found that it takes about 2 weeks to develop comfort and confidence. We now agree, we would never treat a patient without wearing loupes. Added benefits include improved posture and ergonomics, better identification of restorative breakdown to support restorative co-diagnosis, and greater accuracy with periodontal measurements.
HU-FRIEDY COLORVUE® PROBES: EASY TO SEE, EASY TO READ!
When it comes to probes, there are so many choices. It can be difficult to select the most efficient option. Not to mention the fact that most probes have silver/black markings, making it challenging to obtain accurate readings.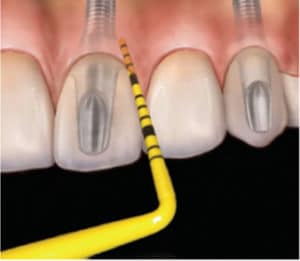 We love the Hu-Friedy Colorvue® line! The vivid yellow resin tips and black markings provide excellent contrast against inflamed, red, and bleeding gum tissues. Colorvue® probes come in a variety of designs. Here are some of our favorites:
#11: 3-6-8-11
#12: 3-6-9-12
Williams: 1,2,3,5,7,8,9,10
Colorvue®

Oxford Probe

Colorvue®

Goldstein

Colorvue®

Perioscreen
Specifically designed for use with implant patients, the Colorvue® Oxford probe is double ended: one instrument with two applications. The plastic end is used for implants and the stainless-steel end—which features Qulix® markings that will not chip, fade, or flake—is used for all other teeth.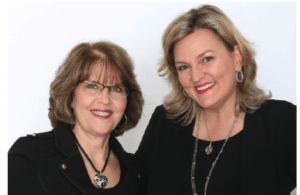 The Colorvue® Goldstein probe features a tapered flexible tip for patient comfort with multi-colored markings of 0.5 mm to 13 mm. These green, blue, red, and black markings in 0.5 mm increments alternate with white, easily distinguishing each measurement for quick reading and recording. This probe also makes measuring recession to properly calculate clinical attachment loss, overjet and overbite, and intraoral lesions a snap. All of the Hu-Friedy Colorvue® probes are multi-use, disposable, and last up to 30 sterilization cycles.
MOUTH MIRRORS: GO 'HIGH DEF' TO SEE IT ALL
In our experience, Hu-Friedy's new High Definition mouth mirror—with proprietary scratch resistant coating—improves the brilliance and color of inflamed periodontal tissues, making diagnosis quick and easy. Coupled with 38.5% extra brightness (over rhodium coated) and 113% reflection factor, we experienced stellar intraoral visibility. The new High Definition mirror, available double sided with five handle options, is 50% brighter than other front surface mirrors, making it our go-to mouth mirror of choice.
From Dimensions of Dental Hygiene. September 2018;16(9):22.