Meeting Patient Demand for Whiter, Brighter Smiles
As tooth whitening continues to grow in popularity, Colgate Optic White provides highly effective and simple solutions that appeal to a variety of patient populations.
While debate may exist on the exact occlusion or gingival display that equates to an esthetic smile, one thing is for sure: bright, white teeth are an integral part of a beautiful smile. And research backs this up. A survey released in February by Mintel/​Greenfield Online found that 67% of Americans have used some type of tooth whitening product to improve their smile.
With myriad whitening options currently available, dental hygienists need to make it simple for their patients to achieve the results they are looking for.
Colgate has made the tooth whitening process easy for both patients and oral health professionals with its Optic White line.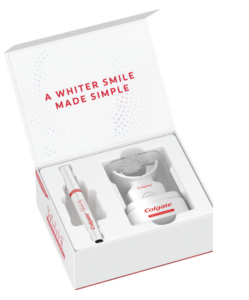 Two Attractive Options Provide Patients With Options
Colgate Optic White comes in two iterations: in-office and take-home, providing patients with the ability to choose the most effective option for their lifestyle and preferences.
Available exclusively through dental offices, Colgate Optic White provides fast and effective whitening without heat or custom trays.
As Cati Laird, RDH, a practicing dental hygienist in Texas, shares, "Patients typically bring up an interest in whitening first. This provides the perfect opportunity for me to sit down with the patient and discuss both the Colgate Optic White take-home and in-office options. We also have the systems displayed in all operatories and at our front desk at check in and check out. This consistent messaging helps patients feel comfortable discussing their whitening desires with us from the start."
Designed for effective whitening, streamlined delivery and no sensitivity, Colgate's Optic White Professional In-Office bleaching kit takes the hassle out of whitening procedures.
"All of my patients who have used Optic White absolutely love the 10-minute wear time. They have stated that it is much easier to use than the typical trays and gel. I have also noticed that more of patients are finishing the process than with the trays," Laird observes.
Patients who have used the Colgate Optic White system report the following benefits:
Makes whitening easier
Does not cause gum irritation
Provides natural-looking results
Makes me confident in my teeth's whiteness
Provides gradual and gentle whitening
Is safe for my enamel
Not messy to use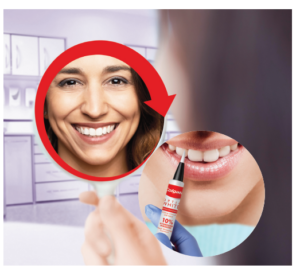 Precision Delivery
The precision pen delivery of its 10% hydrogen peroxide serum allows controlled and customized in-office application that can be adjusted to the patient's needs (Figure 1).
The system—which does not require gingival barriers or custom trays—features a patented LED device that uses short wavelength indigo light (~ 410 nm) to optimize and accelerate activation of the bleaching agent (Figure 2). Further simplifying delivery, the whitening film is easily removed with the ethanol solution provided with the kit.
In-office application can be repeated three times during the visit, and clinicians can take small breaks between sessions to make the experience more comfortable for patients.
Offering short treatment times and up to six shades of whitening after three applications, Optic White Professional In-Office is an excellent addition to any practice.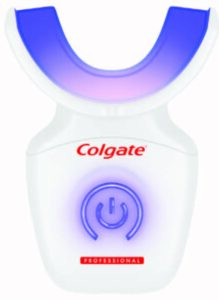 No Sensitivity, No Irritation, No Mess
Now available with all new whitening technology, Colgate Optic White Professional features a synergistic combination of a quick-dry whitening serum and a rechargeable LED whitening device. The patented formula is designed for no tooth sensitivity, no gum irritation, and no mess.
"My favorite aspect of this system is the absence of sensitivity. My patients have experienced NO tooth- or gingiva-related sensitivity," explains Laird.
Dramatic Results in Less Time
The patented LED device accelerates whitening with a short 10-minute wear time. See dramatic results in just 5 days when used as directed.
Clinical results show an eight-shade improvement on the Vita Shade Guide for take-home treatment and 7.75 shades with in-office application. With in-office treatment, 27% of patients achieved whitening results of A1 or better (nine shades or more).
Using 9% hydrogen peroxide and requiring no chair time or custom trays, this new technology is easy to use, helping to support patient compliance. It is truly extraordinary whitening made simple.
Synergistic Approach
Oral health professionals can also combine the two for an even more personalized approach. The in-office option may be supplemented with the Colgate Optic White Professional Take-Home kit, so patients can maintain the results they achieved in the office at home. The take-home option is also key for those patients who prefer an at-home approach.
Laird notes, "Optic White has made the whitening process easier. The in-office is easier due to not having to place a gingival barrier. The take-home is simpler due to not having to deal with impressions, pouring the impressions, or making trays. A big relief!"
End Results
Colgate's new Optic White Professional provides fast and effective whitening results, and offers clinicians and patients the choice of in-office or at-home treatment. In-office whitening requires just a single appointment, and Colgate's advanced technology and adjustable mouthpiece eliminate the need for heat or custom trays. Specially designed for no tooth sensitivity, this state-of-the-art system will transform your patients' whitening experience.
COLGATE ORAL PHARMACEUTICALS
From Dimensions of Dental Hygiene. March 2023; 21(3)22-23.