Marketplace
A listing of featured products.
CUSTOM FIT SENSOR SHEATHS
DEFEND by Mydent, Hauppauge, New York, now offers X-Ray Sensor Sheaths. Latex-free, these sensor sheaths feature soft, rounded edges for greater patient comfort with a custom fit designed specifically for each X-ray sensor. Packaged in an easy-peel outer wrapping to protect the inner sleeve from contamination, these sheaths also reduce the need for harmful disinfectants on X-ray sensors. 800-275-0200; defend.com.
FLUORIDE VARNISH FOR DENTINAL HYPERSENSITIVITY
Water Pik Inc, Fort Collins, Colorado, makes UltraClear Fluoride Varnish, a 5% sodium fluoride varnish indicated for the treatment of dentinal hypersensitivity and for use as a cavity liner. The product offers a smooth application that dries clear and comes in a ready-to-use, easy-to-open hygienic package that comprises one unit dose of varnish and an applicator brush. The varnish is designed to provide effective fluoride release and is available in four xylitol-infused flavors: melon, bubble gum, strawberry, and mint. 800-525-2774; waterpik.com.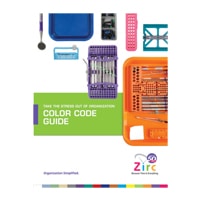 COLOR-CODING GUIDE
Zirc, Buffalo, Minnesota, provides dental practices with a new and improved Color Code Guide. The new Zirc Color Code Guide features simple step-by-step recommendations to set up a colorcode system for one or all procedures. Putting a colorcoding system in place is said to save at least 5 minutes per procedure, and minimize the time spent trying to find in – struments and materials. 800- 328-3899; zirc.com/colorcode.
SCALERS AND CURETS
Hu-Friedy, Chicago, makes EverEdge 2.0 scalers and curets, which maintain a hard, sharp edge due to a proprietary process and enhanced finishing techniques. Designed to reduce hand fatigure and improve comfort of scaling, these scalers can be resharpened at any point to extend their life.The diamond knurl pattern on the large diameter handle provides a comfortable grip. The #9 EverEdge handle was designed to be the optimal weight to decrease hand fatigue. EverEdge 2.0 scaler patterns can be ordered with Resin 8 Colors handle—a lightweight resin option featuring a color-coded system to easily identify scalers and curets that correspond to areas of the mouth. 800-483-7433; hu-friedy.com.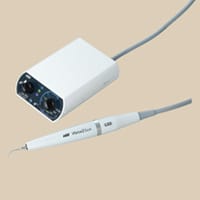 MULTIFUNCTION ULTRASONIC UNIT
NSK, Hoffman Estates, Illinois, offers the NSK Varios 370 unit. Available in two models, optic and nonoptic, the NSK Varios 370 is a compact multifunction ultrasonic scaler. A new iPiezo engine powers the stylish handpiece, providing stable vibration and power that offers effective treatment in all applications— and with a wide range of tips. The optic version has LED lighting to ensure clear vision for identifying calculus and plaque during hygiene and scaling procedures. Features and benefits include a simple and intuitive control panel, with large water adjustment and power knobs for easy operation. 888-675-1675; nskdental.com.
THREE-DIMENSIONAL X-RAY UNIT
The ProMax 3D Classic X-ray unit by Planmeca, Roselle, Illinois, helps to ob tain complete information on a pa tient's anatomy. This multipurpose unit sup ports digital panoramic, cephalometric, and cone-beam computed tomography imaging. It also supports three-dimensional (3D) photos, 3D model scans, and offers an extended volume diameter size for full arch scans. ProMax 3D's extended volume size is designed to capture a larger diagnostic area without increasing the patient dose and to enable single rotation scans without stitching. 630-529-2300; planmeca.com.
From Dimensions of Dental Hygiene. April 2018;16(4):53.