Industry Info
Examining the oral/systemic link.
Examining The Oral/Systemic Link
This issue begins a series of continuing education (CE) articles that highlight the most important issues in dentistry and dental hygiene today—from the oral/systemic link to caries prevention. Sponsored by Philips Oral Healthcare, this series is based on the Philips Educational Symposium "Oral Health and the Connected Body," held October 31, 2014, in Anaheim, California. Each of the seven presentations will be published as CE courses—offering between one CE unit and two CE units—in Dimensions of Dental Hygiene over the course of 2015.
The February issue includes two CE courses that tackle some of the most well-known oral/overall health links—the association between periodontitis and cardiovascular diseases and the relationship between periodontal diseases and pregnancy complications. The first paper, written by Bruno G. Loos, DDS, MS, PhD—an associate professor in the Department of Periodontology, Academic Center for Dentistry Amsterdam, University of Amsterdam, and Vrije University in Amsterdam—provides an in-depth look at the evidence supporting the relationship between periodontitis and atherosclerotic cardiovascular diseases (ACVD), as well as the clinical markers of ACVD and the effects of nonsurgical periodontal treatment on arterial function.
The second CE article focuses on the association between periodontitis and adverse pregnancy outcomes, such as preterm birth, low birth weight, growth restriction, and preeclampsia. One of the United States' most preeminent experts on this association, Steven Offenbacher, DDS, PhD, MMSc, and his colleague Kristin D. Dillow, RDH, MS—both of the University of North Carolina at Chapel Hill School of Dentistry—discuss the etiology of adverse pregnancy outcomes and provide helpful guidelines for the management of pregnant patients, and outline professional recommendations for effective treatment of periodontitis in this patient population.
OSAP Expands Into the Southeast
The Organization for Safety, Asepsis and Prevention (OSAP), based in Annapolis, Maryland, has opened an additional office in Atlanta, near the United States Centers for Disease Control and Prevention (CDC). OSAP is a global organization dedicated to promoting the safe and infection-free delivery of oral health care. The new office will provide OSAP with increased access to the CDC, which oversees health security in the US.
For the past 30 years, OSAP has focused on creating strategies to improve compliance with safe practices and building a strong network of recognized infection-control experts. The organization offers an extensive online collection of resources, publications, FAQs, checklists, and toolkits to help oral health professionals deliver safe and effective care to patients.
Guided Tissue Regeneration Offers New Treatment Options in Periodontal Therapy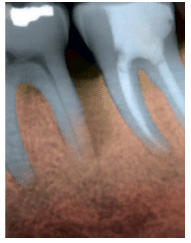 Successfully treating periodontally compromised teeth with deep pockets and little periodontal support is challenging for clinicians. Guided tissue regeneration offers the possibility of saving these teeth, while improving comfort and function for the patient. "A Whole New World," a special continuing education (CE) course developed in collaboration with the American Academy of Periodontology (AAP) and sponsored by Colgate, discusses the goals, supportive evidence, and the clinical potential and limitations of guided tissue regeneration. Written by Thiago Morelli, DDS, MS—a clinical assistant professor in the Department of Periodontology at the University of North Carolina at Chapel Hill School of Dentistry—this informative two-unit CE course explores the uncharted territory of this exciting treatment option.
"A Whole New World" is the first article in a four-part series—sponsored by Colgate and created in conjunction with the AAP— that will discuss key issues in the field of periodontics. This series will appear in Dimensions throughout 2015.
---
From Dimensions of Dental Hygiene. February 2015;13(2):16.