You Can Do Amazing Things
I recently attended the California Dental Hygienists' Association's spring meeting in Anaheim.
I recently attended the California Dental Hygienists' Association's spring meeting in Anaheim. During the lunch break, I sat with a group of registered dental hygienists in alternative practice (RDHAPs). While we enjoyed our meal al fresco in the beautiful California climate, I realized this would be no ordinary lunch. It was the ultimate "lunch and learn."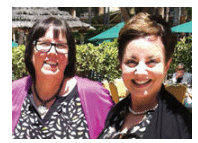 The RDHAP license is granted by the Dental Hygiene Committee of California—the only dental hygiene self-regulation body in the United States. Applicants applying for the RDHAP license must meet the following criteria:
Hold a current California license as a registered dental hygienist
Have worked in clinical practice as a dental hygienist for at least 2,000 hours duringthe immediately preceding 36 months (in California or another state)
Possess a bachelor's degree or its equivalent
Complete 150 hours of an approved educational program and pass a writtenexamination in California law and ethics
It was fascinating to hear about the RDHAPs' accomplishments and the significant challenges they face. One thing was clear—these dedicated professionals are enthusiastic about treating those who have little access to professional dental care. Debra Olsen, RDH, RDHAP, provides mobile services to individuals with complex medical issues in Southern California through her independent practice, Smile Partners. She travels to retirement communities, hospice centers, and skilled nursing facilities, to name a few. Olsen is not alone—currently more than 500 RDHAPs are practicing in California.
"I found my niche treating people with special needs. I have a deep and strong connection with these patients," Olsen explains. "Their gratitude comes in many forms, even from those who are nonverbal. It can be a hug, a smile, or just a look in their eyes that lets me know I've helped them in some way."
When our lunch ended, I felt a renewed sense of pride in my dental hygiene colleagues. I recalled the report from the National Governors Association that stated, "As demand for oral health services rises…states can consider doing more to allow dental hygienists to fulfill these needs by freeing them to practice to the full extent of their education and training."1 Thank you to Olsen and all RDHAPs for showing us the innovative ways dental hygienists can improve the health of others.
Jill Rethman, RDH, BA
Editor in Chief
[email protected]
REFERENCES
National Governors Association. The Role of Dental Hygienists in Providing Access to Oral Health Care. Available at: nga.org/files/live/sites/NGA/files/pdf/2014/1401DentalHealthCare.pdf. Accessed June 9, 2014.
From Dimensions of Dental Hygiene. July 2014;12(7):8.