Dimensions of Dental Hygiene Launches Two New Columns
To kick off the new year, Dimensions of Dental Hygiene is excited to an­nounce the launch of two new columns—"Digital Agenda" and "Social Commentary."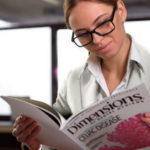 To kick off the new year, Dimensions of Dental Hygiene is excited to an­nounce the launch of two new columns—"Digital Agenda" and "Social Commentary." Both columns are de­signed to deepen the journal's connection with readers and broaden the opportunity to engage.
Digital Agenda covers all that's happening under Dimensions' social media platforms and Social Commentary provides readers with the opportunity to voice their opinion on a variety of issues related to the profession. Look for these interesting new columns on page 14 and page 15 of this issue.
From Dimensions of Dental Hygiene. January 2020;18(1):10.