Connection Through Compassion
When I was 8 years old, my family and I left our home in Kabul, Afghanistan, due to increasing violence.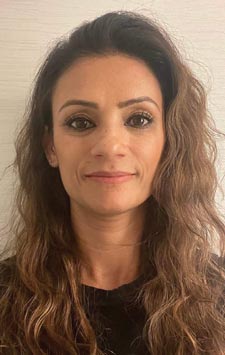 When I was 8 years old, my family and I left our home in Kabul, Afghanistan, due to increasing violence. We lived in India for 7 months and then relocated to Germany, where we were refugees. It was the most difficult time of my young life. None of us spoke German, nor did we have friends or family to rely on for guidance. I was one of five children alone with our mom who was very young herself. When I was 15, we moved to California, and settled into life in the United States.
I was unaware of the profession of dental hygiene until the age of 23. While volunteering at a dental office, I met a dental hygienist, Denise. I quickly felt drawn to the profession. Denise was helping her patients in many different ways. She listened to their stories while supporting their oral health. I also noticed she was "healing" them with her compassion and kindness. This was the moment I decided on my career path. I graduated with a Bachelor of Science in Dental Hygiene in 2011, earned a Master of Healthcare Administration in 2016, and recently received a Doctorate of Education in Leadership and Learning with a specialization in Healthcare Administration and Leadership.
Sadly, Afghanistan is again facing violence and, of those lucky enough to flee, some were able to come to the US as refugees. I am now a proud volunteer with the not-for-profit organization Afghan Refugee Relief (ARR), which helps refugees with food, groceries, clothing, shoes, housing, and job placement. However, finding housing as refugees is quite difficult. Families stay in hotels for 90 days and then are on their own. The volunteers at ARR try to find housing before their prescribed time is up. Once housed, ARR provides the families with the items needed to furnish their apartments. In addition, we take care of any medical emergencies that arise. For instance, we were able to provide emergency medical attention for a toddler with epilepsy. My experience as a compassionate dental hygienist enables me to recognize peoples' needs not only for dental care but medical care as well. For me, dental hygiene isn't just a job, it's what helps me connect with others through compassion and healing.
Do you have a story to share? Dimensions wants to hear about you—the clinicians who perform the daily role of caring for patients and have also found an additional way to use your knowledge and skills outside of the operatory. You may be featured in a future issue. Reach out to Jill Rethman, RDH, BA, at: jrethman@belmontbusinessmedia.com.
From Dimensions of Dental Hygiene. May 2022;20(5):10.