A Lifelong Commitment to Dental Hygiene
When I graduated from dental hygiene school, I wasn't really thinking about 10, 20, or even 30 years down the road.
When I graduated from dental hygiene school, I wasn't really thinking about 10, 20, or even 30 years down the road. So imagine a life in dental hygiene that spans 75 years. Think of all the changes and innovations that could happen and envision where your profession could take you. Betsy Davis, RDH, doesn't need to conjure up these thoughts—she has actually lived them!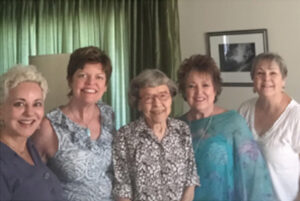 Betsy Bartlett Davis graduated from the West Liberty College Department of Dental Hygiene in 1942. In 1946, she served as president of the West Virginia Dental Hygienists' Association. She was the first dental hygienist to practice in Clarksburg, West Virginia. After marrying "her most special patient, Marlow Davis," Betsy moved to Pittsburgh and worked as a dental health educator in five elementary schools. Her affinity for working with children was apparent throughout her career. An article she wrote in the West Virginia Dental Journal in 1947 stated "With the realization that preventive measures applied to the mouths of children are most productive of the desired results, the work of the dental hygienist may be especially effective in securing the interest and confidence of these important patients." Alfred Fones, DDS, would be proud!
In 1957, Betsy and her family moved to Phoenix. She worked in four different dental offices, all while juggling her family's and children's activities. A past president of the Arizona State Dental Hygienists' Association, Betsy also served as its historian. She states, "I do believe that if we balance our lives with interesting activities, it will in some subtle way contribute to our staying enthusiastic about our career." Betsy has been a lifelong member of the American Dental Hygienists' Association. When I asked her why this was important, she replied, "Because we are members of a profession. We need to keep up with changes and learn what is happening nationally and internationally."
I recently had the pleasure of spending an unforgettable afternoon with Betsy and several other dental hygiene friends. Betsy hosted us in her lovely home for a delightful lunch, filled with fun and interesting conversation. Although she retired in 2017, her continued love for the dental hygiene profession is contagious! She gave each of us a teddy bear magnet that she had made to remind us of the wonderful day we shared. She told us how she would make those little teddy bears for students and give them out when visiting classrooms. Since her retirement, the students at one of the schools insisted that Betsy return and she obliged. Betsy says "I do various kinds of volunteering but those classroom visits, promoting dental health, will always be my favorite." Thank you, Betsy, for all you've given to our profession and for the countless lives you have touched. You inspire and encourage us to remain committed to our profession!
Watch a special video of Betsy participating in one of her favorite hobbies—playing the piano.
Jill Rethman, RDH, BA
Editor in Chief
jrethman@belmontpublications.com
---
From Dimensions of Dental Hygiene. November 2018;16(11):8.