A Faster Route To Dental Implants
A Faster Route To Dental Implants Dental specialists at UofL use digital imaging, computer software and 3D printing to make dental implants easier and more comfortable for patients Virtual prosthetically driven surgical plan 3D printed diagnostic cast with screw retained
A Faster Route To Dental Implants
Dental specialists at UofL use digital imaging, computer software and 3D printing to make dental implants easier and more comfortable for patients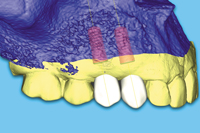 Virtual prosthetically driven surgical plan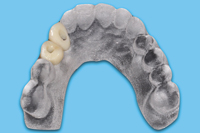 3D printed diagnostic cast with screw-retained interim restorations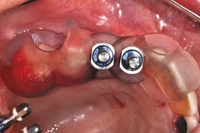 Placement template with two dental implants
LOUISVILLE, Ky. – Dental implants can be completed with fewer office visits and less recovery time for patients thanks to a protocol developed by faculty members, residents and implant fellows at the University of Louisville School of Dentistry. In an article recently published online at Journal of Prosthetic Dentistry, members of the Department of Oral Health and Rehabilitation describe a case in which they used a fully digital approach to computer-guided surgery and immediate placement of temporary restoration teeth in the school's patient clinic.
The traditional process for dental implants requires numerous office visits with a restorative dentist (prosthodontist) and dental surgeon for oral impressions and surgical preparation, with weeks between treatment visits to allow healing time. By using a digital workflow, the clinician can typically obtain all the information needed to plan the surgery in a single visit with an intraoral scan and cone-beam computed tomographic (CBCT) imaging. Then, using software to plan the surgery and generate virtual and 3D-printed models, implants can be placed with temporary restoration teeth in a single surgical visit.
"This protocol skips a lot of steps and makes it more efficient," said Bryan T. Harris, D.M.D., associate professor of prosthodontics at UofL and a coauthor on the publication. "The patient benefits from reduced chair time, minimal surgical exposure, more efficient appointments and more predictable results."
In the case described in the article, the group utilized a completely digital workflow to replace two teeth for a woman at the UofL School of Dentistry's patient clinic. First, the clinicians obtained digital information for the patient's teeth, jaw and gums with intraoral digital scanning, replacing traditional impressions. They then input the patient's information into planning and design software to prepare for the surgery. Computer aided design and computer numerical controlled (CNC) milling were used to design and manufacture the temporary restoration teeth. Next, computer aided design and 3D printing technology were used to create models and an implant placement template for the dental surgeon to use during the surgery. The template allowed the surgeon to place the implants without opening flaps in the gums, providing less disruption of tissue and faster recovery time.
"The software can provide a template to guide the surgeon in placing the implant, so you save a lot of time during the surgery," said Wei-Shao Lin, D.D.S., associate professor of prosthodontics at UofL and a publication coauthor. "The dentists can plan everything ahead of time instead of making decisions on the spot."
Postgraduate students in advanced specialty certificate programs at the UofL School of Dentistry provide patient services utilizing digital workflow and other developing techniques, overseen by faculty members, in the school's specialty clinics.
"We are setting the trends and developing the protocols ahead of the curve to allow our dental students and postgraduate students to be trained in the latest dental technology," Harris said.
For a separate article on a digital approach for dental implants, published in the September, 2015 issue of JPD, Lin won the Journal of Prosthetic Dentistry's 2015 Judson C. Hickey Scientific Writing Award in the Clinical Report Category, as corresponding author. Harris also was an author on that publication.
# # #