Wishing on a Star
With the pain of untreated dental disease in his rearview mirror, Shimirimana Eliya, RDH, BS, is ready to promote oral health across the globe.
The dental hygiene faculty and administration of Texas A&M University School of Dentistry are always proud of their graduating class and look forward to the next cohort of students. However, the class of 2023 had a particularly exceptional graduate: Shimirimana Eliya, RDH, BS.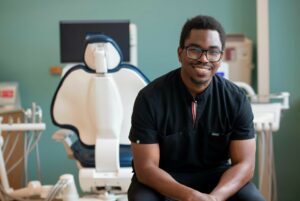 Originally from Congo, his family fled the country's unrest and Eliya was born and raised in a refugee camp in Tanzania. As a toddler, he experienced dental pain due to untreated oral disease. The pain often kept him awake at night, where he would gaze at the stars wondering about the source of his discomfort.1
The family moved to a refugee camp in Kenya and, in 2007, Eliya and his family immigrated to the United States. After a year, he was able to visit a dentist and receive the treatment he needed, mainly to address severe decay. The spark for dentistry was lit, and Eliya is beginning his career in dental hygiene.1 He shared some of his experiences with Sunstar Ebrief.
What sparked your interest in dental hygiene?
Growing up, the dental issues I experienced as a little kid sparked my interest in dentistry. I did not know much about the dental hygiene, but after Googling it, I knew that this field was for me. Dental hygiene focuses on educating patients about their oral health. When I got to US, the dental clinics I visited did not educate me on prevention. So, joining a profession that allows me to give and teach skills I was not given is a pleasure.
What are your long-term career plans in the profession?
I plan to work in public health and travel abroad to further expand oral health.
In what ways do you believe the delivery of oral healthcare could be improved in the US?
Emphasizing prevention and ways to prevent tooth decay and gingivitis in school rather than only teaching the number of teeth a human has.
Normalizing frequent dental visits and expand the number of clinics that offer dental care for a low cost.
Encouraging community water fluoridation to combat caries.
For new immigrants, translators to advise them of the region's available medical and dental clinics. When I first came to the US, all we knew was there were hospitals we could go to but we did not receive information on available dental clinics. We thought everything was done at the hospital.
Reference
Tribe K. Story behind the smile.