The American Dental Association Makes Hello's Kids Toothpastes Even Friendlier
The American Dental Association Makes Hello's Kids Toothpastes Even Friendlier Kids Toothpastes Receive ADA Seal of Acceptance, expand national distribution August 2015 Montclair, N.J., August 12, 2015 – Hello naturally friendly™ oral care is feeling even more smiley thanks to
The American Dental Association Makes Hello's Kids Toothpastes Even Friendlier
Kids Toothpastes Receive ADA Seal of Acceptance, expand national distribution August 2015
Montclair, N.J., August 12, 2015 – Hello naturally friendly™ oral care is feeling even more smiley thanks to the American Dental Association (ADA), who awarded their Seal of Acceptance to their new Blue Raspberry, Green Apple and Bubblegum Toothpastes for kids. Hello kids pastes launched exclusively at select Target locations and Target.com in Q1 2015, and will be expanding in new retail distribution throughout Q3 and Q4 2015. These ADA-approved hello kids toothpastes, along with new adult flavor, Peach Mango Mint, join the original three hello adult toothpastes, which received the Seal of Acceptance last year. This coveted seal acknowledges that all of hello's toothpastes meet the ADA's guidelines for toothpastes that contain fluoride for the control of tooth decay, and are recognized by both professionals and consumers as a sign of excellence for superior oral care products.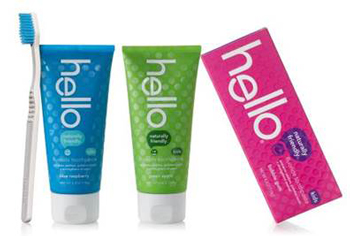 In uniquely delicious flavors, the formulas are as natural as possible while still being effective. They have undergone rigorous testing and are clinically proven to strengthen enamel and protect against cavities. Extensive clinical research was performed by a third party dental research organization, and demonstrated that enamel effectively absorbed the paste's active ingredient, fluoride, during the brushing process.
Being as natural as possible means that there's nothing in hello toothpastes that doesn't absolutely have to be there to be effective and delicious. Free from artificial flavors, artificial sweeteners, dyes, preservatives, triclosan, and microbeads, the kids pastes are sweetened with xylitol and stevia for a refreshing burst of flavor that will make kids rush to brush, without all the fuss. Hello kids pastes are also free from mint, a plus for little ones who may not care for the ingredient and sensation.
"We don't believe you should have to compromise when it comes to products for your family," said Craig Dubitsky, the company's CEO. "All of our toothpastes leave you feeling clean, polished and fresh without unnecessary artificial ingredients, plus the added bonus of amazing taste. Why shouldn't kids have the same awesome experience as their parents? With flavors this delicious, we think kids will actually look forward to brushing; hopefully this helps with overall compliance, and will cut down on parents having to plead with their kids to brush their teeth. And now that the entire hello paste collection has the ADA Seal, there's no question that it's effective for the whole family."
Hello's entire line of oral care products is vegan, Leaping Bunny Certified (never tested on animals) and made in the good ol' US of A.
For more details on this smile-worthy recognition, please visit the ADA Product Seal Report on the ADA website.
# # #