Taking the World by Storm
In spite of personal hardships, Karen Tyree, RDH, BSDH, continues to advance the professions of dental assisting and dental hygiene in her home state of Alabama.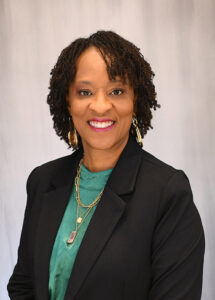 Dentistry has been plagued by a lack of dental team members in spite of high demand. Gadsden State Community College is trying to do something about that issue by launching a new Dental Science Program, which will initially educate dental assistants in Gadsden, Alabama.
The new program will be led by Karen Tyree, RDH, BSDH, who has overcome breast cancer and the loss of her husband, to bounce back to lead this new pathway for dental team members that will one day include dental hygienists. The historically black college expects its first class to begin in the spring of 2023.
Tyree grew up in Gadsden, Alabama, and has more than 28 years of experience in the dental field in a variety of settings, including endodontics, oral surgery, general, pediatric, and orthodontics. This vast experience has prepared her for her position as director of dental science.
What inspired your decision to become an oral health professional?
It wasn't about what I liked about dentistry that led me to the profession, it was about what I didn't like. I didn't like my dentist. He wouldn't listen to me. I wanted to help others who felt like me: nervous, anxious, and fearful.
As a dental hygienist, I am able to connect with patients on their level and help them work through their fears, which is very rewarding. Helping others and empowering people are what motivate me the most. The idea that I might provide a solution to a patient's problem is what motivates me to do a good job. I believe it's not what you do for yourself, but rather how you are able to better the lives of people around you.
I have nearly three decades of experience in dental assisting and dental hygiene. I started out volunteering as a dental assistant with the American Red Cross in Ft. Campbell, Kentucky, and Stuttgart, Germany. I loved it, so when we moved back to the states, I decided to go to school to earn my license in dental hygiene.
When I first entered this profession, I knew I wanted to represent my culture in a field where it was not present. When I started as a dental assistant, I noticed the lack of diversity. Even upon my acceptance into dental hygiene school, I remember noticing I was the only African American student in my class. Subconsciously, I felt an immense amount of pressure to prove that I belonged in the program.
You have been involved in a variety of facets in dentistry: clinical practice, academia, traveling clinician and several different specialties. Which is your favorite?
It's difficult to pick one because dentistry is continuously changing. I love being able to touch patients' lives in a positive way. Now, I have to opportunity as the director of dental science to pass this passion on. There is something exciting about educating others, figuring out what they know and what they don't know, uncovering their "aha" moments, and preparing them for a future in dentistry. I get to share my skills, knowledge, and passion.
What impact will the new Dental Science Program have on dental practices in Alabama?
Because dental assistants are in such high demand, dental practices are looking to hire clinicians who are ready to start working and contribute as soon as possible. This program prepares individuals to assist with the care of dental patients under direct supervision of a dentist. Dental assistants help with the provision of patient care, business office administration, and laboratory procedures.
What are your plans to expand the program to include a dental hygiene track?
The Dental Science Program is going to continue to grow and is of great benefit to this area. Students no longer have to drive to other cities to train as dental assistants, and dentists don't have to look outside of our community to find good assistants. The college is always evaluating the need for future programs to meet community and workforce needs. As the growth of the dental assisting program continues, dental hygiene will remain on the horizon as a future expansion opportunity.
Right now, dental hygiene is a growth field. Per the United States Bureau of Labor Statistics, the growth in demand for a dental hygienist is twice that of a dentist (6% vs 3% for the period of 2019 to 2029). That 6% is also faster than the average career growth, so the high demand for this type of work is nationwide.