Elevating the Allied Dental Professions
Rebecca Stolberg, RDH, BSDH, MSDH, shares her insight on a career dedicated to furthering the profession of dental hygiene.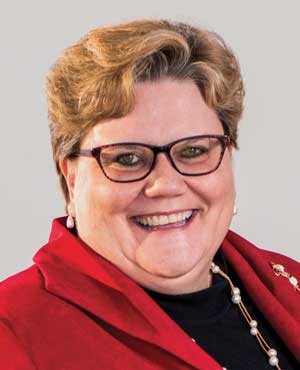 More than 30 years ago, Rebecca Stolberg, RDH, BSDH, MSDH, began her career in oral healthcare as a dental assistant. Today, she is vice president of Allied Dental Education and Faculty Development at the American Dental Education Association (ADEA). She has worked as a dental hygienist in clinical practice, served as both chair of the Department of Dental Hygiene and associate dean at Eastern Washington University in Spokane, and is now dedicated to allied dental faculty development. 
With such an interesting professional journey, Sunstar Ebrief reached out to Stolberg for some keen insights on career building and the profession of dental hygiene.
1. What were the most important steps you took to keep growing in your career, and do you have any advice for dental hygienists who may be interested in more than clinical practice?
Many factors have helped me grow in my professional life, and taking just a few steps can help dental hygienists propel their career forward. The first is to remain informed. Read everything related to dental hygiene regularly. What is the American Dental Hygienists' Association up to? What are the current practice trends? What do I need to know more about? 
The second step is to keep in touch with the dental hygiene educators and mentors you had while in school and to find more mentors in your areas of interest. This is accomplished by staying involved in the profession and networking. Have you read an article on a topic you are excited about? Reach out to the author for more information; this can lead to a mentor/mentee relationship. Don't be shy—reach out to folks. 
The next step is to attend regional and national conferences. This is where you meet the "movers and shakers." You may hear about job openings, and you can meet the dental hygienists whose work you have read or whose speaking you admire.  
Lastly, if you haven't earned a bachelor's degree—do it. With the large number of online programs now available, there is no excuse for not developing yourself professionally with a higher degree. Higher degrees open more career avenues, and some organizations now even require a master's degree to work for them. 
2. You recently were promoted to vice president from senior director at ADEA. What are your new responsibilities?
Thankfully this promotion did not include many more responsibilities. Given that I am the only allied dental professional at ADEA, my days are very busy. The promotion shows appreciation for my hard work and elevates the allied dental professions to a new level at ADEA. I will be working a bit more on collaborative projects we have with the American Dental Association.  
3. The COVID-19 pandemic has resulted in a shortage of dental hygienists. What is ADEA doing to address this issue? 
ADEA is aware of the new dental hygiene shortage, and our most important role is in advocacy at the federal level. This legislative year, we will be working on increasing the number of faculty loan repayment scholarships for dental hygiene. The long-term implications can mean more loan repayment for dental hygiene students as well as encouraging more clinicians to enter the field of education. 
The most recent ADEA Allied Dental Program Director Survey reveals an anticipated need for 105 dental hygiene faculty over the next 5 years.1 For programs that find ways to increase their number of dental hygiene students, ADEA will assist with faculty and curriculum development and leadership development opportunities.  
In a time of dental hygienist shortages, it's even more important to educate dental students on the value of dental hygienists to prevent the large turnover in dental practices. ADEA's efforts in interprofessional education will assist with this. Once a dentist finds a valuable dental hygienist, it's important to keep him or her, rather than deal with the shortage. 
REFERENCE
American Dental Education Association. Allied Dental 2020: An Analysis of the Results of the 2020 ADEA Survey of Allied Dental Program Directors in the United States. Available here.