New User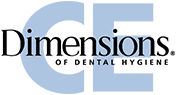 New User
Existing User
Help
Author

Heather B. Allen, RDH, BSDH, MSHCM
0 posts
0 comments
Heather B. Allen, RDH, BSDH, MSHCM, is an assistant professor of clinical
comprehensive dentistry in the Dental Hygiene Program at Louisiana State University Health Sciences Center New Orleans (LSUHSC-NO) School of Dentistry. She has been a dental hygiene educator for 13 years and a practicing clinician for 19 years. Allen is a liaison to the American Dental Education Association Commission on Change and Innovation in Dental Education and a past president of the New Orleans Dental Hygienists' Association (NODHA). She can be reached at: [email protected].
This alternative modality can be used to enhance overall patient comfort while reducing fear and anxiety in the dental setting.
By supporting the prescription drug monitoring program, promoting the proper disposal of opioids, and encouraging opioid stewardship, dental hygienists can make a difference in this public health issue.