Supporting Children's Oral Health
Ensuring the early and comprehensive examination of children puts them on the path to positive oral health.
An early visit to a dental office and the establishment of a dental home provide the foundation necessary for children to achieve good oral health— free from pain and disease. The American Academy of Pediatric Dentistry (AAPD) recommends that the first dental examination coincide with the eruption of the first tooth and no later than 12 months of age.1,2 The AAPD defines a dental home as "the ongoing relationship between the dentist and the patient, inclusive of all aspects of oral health care delivered in a comprehensive, continuously accessible, coordinated, and family centered way."3
Ensuring children visit a dental office early and establishing a dental home can improve their overall health by treating disease, recognizing developmental issues, counseling parents/caregivers on traumatic injuries and their prevention, teaching parents/caregivers about nutrition and obesity, and providing anticipatory guidance.4 When examining children at their initial or recare visit, each examination needs to be tailored to that specific child and should consider age, behavior, and developmental needs. A comprehensive examination comprises several key parts that should be included when evaluating a child. These may include, but are not limited to the clinical oral examination, caries risk assessment, prophylaxis, topical fluoride treatment, radiographic assessment, and anticipatory guidance.
CLINICAL ORAL EXAMINATION
During a clinical oral examination, children's developing dentition should be evaluated to make sure the teeth are erupting correctly and in the appropriate sequence. The teeth should also be evaluated for evidence of white spots or decay. The extraoral and intraoral tissues should be examined, and any inflammation or pathology noted. Other things to consider are oral hygiene, pain, temporomandibular joints, and developing malocclusions.
The frequency of future examinations should be based on the child's individual needs and caries risk status.5,6 For example, depending on their oral hygiene and risk for disease, children may need to be seen more frequently (eg, every 3 months), while others may be fine on a 6-month recare schedule. Children with special health care needs may need to have their preventive strategies and treatment plans individualized to make sure they address their unique disabilities. This will usually require a thorough discussion with the parent or caregiver.
CARIES RISK ASSESSMENT
A caries risk assessment is a key element in the prevention of dental disease. The first assessment should ideally occur as soon as the first tooth erupts, or at the patient's first visit. The risk assessments should continue thereafter at each recare visit. The goal is to prevent disease by identifying children at high risk for dental caries, developing individualized preventive and caries management strategies, and helping oral health professionals determine appropriate recare intervals.6 A thorough examination and discussion with the parent or caregiver on diet, sugar consumption, and oral hygiene practices are key in helping to determine a child's caries risk.
PROPHYLAXIS AND TOPICAL FLUORIDE TREATMENT
The prophylaxis aids in removal of plaque, calculus, and stain from the child's teeth. It also provides the opportunity to educate patients and their parents/caregivers on proper oral hygiene techniques. Once again, the frequency of the prophylaxis and fluoride treatment is based on the patient's caries risk.5,6
RADIOGRAPHS
A radiographic survey may be part of a child's comprehensive examination. Timing of the first radiographic assessment should not be based on the patient's age but rather on the child's individual circumstances.7,8 The child's behavior and the resulting ability to take a diagnostic X-ray are also important considerations. It is always important to minimize the amount of radiation a child receives by taking only the films that are necessary.
ANTICIPATORY GUIDANCE
Anticipatory guidance is the process of providing practical and developmentally appropriate information about children's health to prepare parents/caregivers for significant physical, emotional, and psychological milestones.9 The process begins at the patient's first visit and should be age appropriate. As the child ages, the discussions will change to remain relevant. When covering anticipatory guidance with the parent/caregiver and/or patient, it usually includes discussions on:
Development and eruption of teeth, existing or developing malocclusions, and potential need for orthodontic intervention

Oral habits, such as pacifier use, thumb sucking, nail biting

, and their effects on the developing dentition

Status and effectiveness of oral hygiene
Dietary counseling, including bedtime bottles or beverages, sugar consumption, and snacking habits
Review of traumatic injury prevention and how to access help if a dental traumatic injury occurs
Dangers of smoking, smokeless tobacco, and e-cigarette use
Oral piercings and the associated dangers to teeth and oral structures
Other relevant areas that may be discussed are third molars, need for and value of sealants, and cosmetic issues. When treating children with special health care needs, discussions and modifications should be tailored to the unique needs and disabilities of that child.
The AAPD has developed a chart, Recommendations for Pediatric Oral Health Assessment, Preventive Services, and Anticipatory Guidance/Counseling (Table 1). This helpful resource was created to assist oral health professionals with anticipatory guidance. The chart is organized by age groups so the most relevant and age-appropriate points can be discussed at each visit.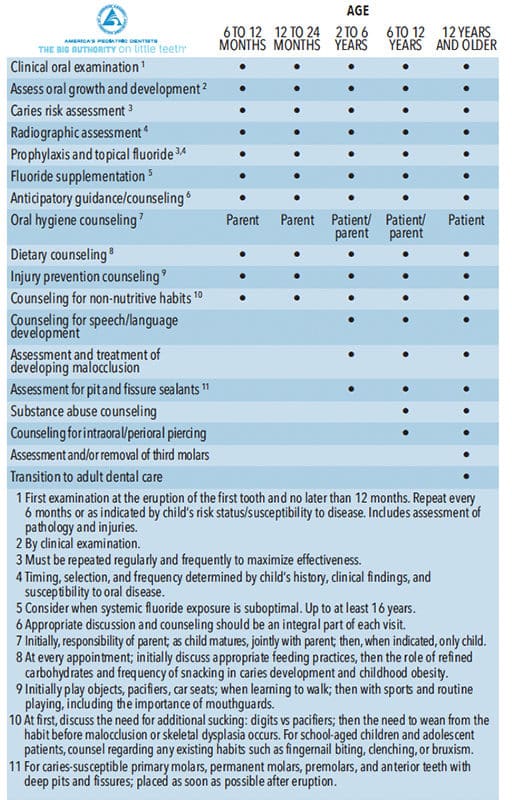 CONCLUSION
As we celebrate National Children's Dental Health Month, it is important to remember the key steps when examining children, especially anticipatory guidance. Thorough discussions on the child's growth, prevention of injury and disease, and the important milestones of oral development need to be covered, as well. Through these discussions, we can educate those involved, and make sure the child—from infancy to adolescence and beyond—has a happy, healthy mouth.
REFERENCES
American Academy of Pediatric Dentistry. Perinatal and infant oral health care. Pediatr Dent. 2018;40:216–220.
American Academy of Pediatric Dentistry. Policy on the dental home. Pediatr Dent.

2018;40:29–30.

American Academy of Pediatric Dentistry. Definition of dental

home.

Pediatr Dent.

2018;40:12.

Tseng R, Vann WF Jr, Perrin EM. Addressing childhood overweight and obesity in the dental office: Rationale and practical guidelines. Pediatr Dent.

2010;32:417–423.

Patel S, Bay C, Glick M. A systematic review of dental recall intervals and incidence of dental caries. J Am Dent Assoc.

2010;141:527–539.

American Academy of Pediatric Dentistry. Caries risk assessment and management for infants, children, and adolescents. Pediatr Dent.

2018;40:205–212.

American Academy of Pediatric Dentistry. Prescribing dental radiographs for infants, children, adolescents, and individuals with special health care needs. Pediatr Dent.

2018;40:213–215.

American Dental Association. Dental radiographic examinations: Recommendations for patient selection and limiting radiation exposure. Available at: ada.org/ ~/ media/ ADA/ Member%20Center/ FIles/ Dental _ Radiographic_ Examinations_ 2012.pdf". Accessed January 15, 2019.
American Academy of Pediatric Dentistry. Guideline on periodicity of examination, preventive dental services, anticipatory guidance, and oral treatment for children. Pediatr Dent.

2018;40:194–203.
From Dimensions of Dental Hygiene. February 2019;17(2):12,14.