July 2021 Marketplace
A listing of featured products.
ULTRASONIC INSERTS
MadUltrasonics LLC, New York, makes high-quality, prophy-style magnetostrictive ultrasonic inserts. Made by dental hygienists for dental hygienists, the inserts provide excellent performance at low power, maintaining clinicians' tactile sensitivity while also providing greater comfort for both operators and patients. MadUltrasonics' long-lasting inserts come in 12 styles, are available in both 25k and 30k, and are compatible with all magnetostrictive units. 914-844-6313; madultrasonics.com.
---
TOOTH WHITENING PEN

GLO Science, New York, has launched the GLO To Go Teeth Whitening Pen. Developed by GLO Science's Jonathan B. Levine, DMD, the whitening pen's sensitivity-free formula is powered by 100% hydrogen peroxide and enhanced with plant-based antimicrobials. GLO To Go features a fresh cinnamint flavor, and a hygienic angled silicone tip to ensure quick and even application. This pocket-sized whitening pen is designed to allow fast and effortless touch-ups. 855-456-5976; gloscience.com.
---
SONIC TOOTHBRUSH FOR KIDS
BURST Oral Care, Walnut, California, has launched the BURSTkids Sonic Toothbrush. The toothbrush features a 2-minute timer that pauses every 30 seconds to indicate it is time to brush the next quadrant, and features standard or sensitive brushing modes. The small, ergonomically designed soft-touch silicone handle provides a sure grip and easier manipulation of the brush for children developing fine motor skills. Featuring a pediatric-sized brush head and soft-charcoal, tapered bristles, the BURSTkids Sonic Toothbrush is suited for those with primary teeth to mixed dentition (ranging from 2-year-olds to preteens). Kids will appreciate the vibrant color choices of purple, pink, or blue. burstoralcare.com.
---
TOOTHPASTES AND MOUTHRINSE WITHOUT ARTIFICIAL INGREDIENTS

Colgate, New York, has debuted its Colgate Zero product lineup. Formulated without artificial flavors, sweeteners, or coloring, the line includes Colgate Zero peppermint toothpaste, which has a microfoaming formula that provides a deep clean and caries protection, while also strengthening enamel and freshening breath. The Colgate Zero for Kids 2–6 Years toothpaste holds the American Dental Association Seal of Acceptance and has a kid-friendly natural strawberry flavor. Younger children will enjoy Colgate Zero for Kids 3–24 Months, which has a baby-friendly, natural mild fruit flavor and is safe if swallowed. The fluoride-free formula also offers a gentle cleaning action. Designed to kill 99% of oral bacteria, Colgate Zero Mouthwash Fresh Breath is alcohol-free and has a natural, cooling peppermint flavor. Finally, the Colgate Zero for Kids Manual Toothbrush is free of bisphosphonate-A and is suitable for children ages 2 and older. 800-468-6502; colgate.com/en-us.
---
SPIRAL CUP PROPHY ANGLE
Preventech, Indian Trail, North Carolina, makes the Pivot Plus Spiral Cup DPA with deeper external edges for more efficient polishing on adjacent teeth and interproximal areas, plus improved splatter control. Pivot offers made-in-the-USA quality at a great value, now with a broader line, to fit dental hygienists' needs without paying more. 800-474-8681; preventech.com/product/pivot-nl
---
AIR DISINFECTION DEVICE
Novaerus, Stamford, Connecticut, introduces the Defend 1050, an air disinfection device designed to help prevent the spread of infectious outbreaks by inactivating and filtering out microorganisms, including virus and bacteria. This unit is said to be the first system with NanoStrike—a patented plasma-generating technology—to receive United States Food and Drug Adminstration 510(k) marketing clearance. This freestanding, portable recirculating air cleaning system is designed for additional frontline protection in healthcare settings, such as operatories and waiting areas. Ideal for treatment areas used during aerosol-generating procedures, the Defend 1050's NanoStrike technology uses a plasma field that rapidly inactivates microorganisms at the molecular level. The system plugs into standard outlets. 866-515-5181; novaerus.com/en-US
---
INTRAORAL SCANNER

Medit, Seoul, Korea, has released its new i700 intraoral scanner, which is powered by a camera that captures up to 70 frames per second. This means more data with each pass, resulting in a smooth and quick scanning experience. Offering realistic colors and crisp imaging, this device features reversible, autoclavable tips, and has a detachable cable for easy maintenance and improved portability. In addition, the i700's reduced size ensures a small and light handpiece, while its remote control mode allows the provider to keep his or her hands on the unit while easily sharing scan data with the patient. According to the company, the unit's UV-C LED makes this the only scanner on the market with self-disinfecting capabilities. It runs on Medit Link, the company's proprietary software that integrates with other computer-aided design/computer aided manufacturing applications, as well as Medit's apps for smile design, orthodontic simulation, crown fit, and other tools. medit.com
---
DENTAL GEL DESIGNED TO REPEL PLAQUE

Livionex, Los Gatos, California, offers LivFresh Dental Gel, a nonabrasive, detergent-free therapeutic toothpaste that it bills as the first to meet European Medical Device Regulations as an over-the-counter dentifrice for the prevention and treatment of periodontitis and gingivitis. LivFresh's unique mechanism of action enables the tooth surface to repel plaque at the molecular level. The company reports a double-blind clinical study published in the Journal of Periodontology shows that subjects who brushed with LivFresh dental gel saw 80% of their pocket probing depths improve. Additionally, the study notes that compared to the group using a leading anti-plaque, anti-gingivitis toothpaste, subjects who brushed with LivFresh experienced 2.5 times less periodontal inflammation and 1.9 times less bleeding on probing; getlivfresh.com
---
STANNOUS FLUORIDE TOOTHPASTES
P&G Crest + Oral B, Cincinnati, offers stannous fluoride dentifrices to improve gingival health. Crest Gum Detoxify and Crest Gum and Sensitivity are designed to penetrate deep into the biofilm to neutralize gingivitis-causing bacteria, as well as remain active up to 4 mm below the gumline. 800-566-7252; dentalcare.com.
---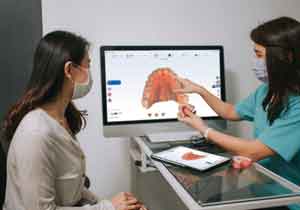 DIGITAL WORKFLOW SOLUTIONS
Planmeca, Helsinki, Finland, has announced the integration of its all-in-one software, Planmeca Romexis, with Henry Schein One's web-based Digital Dental Exchange (DDX) portal. This integrated, enhanced communication between dental practices and laboratories delivers seamless connectivity between practice management software and lab-management applications. Oral health professionals using DDX can easily create a new case—prepopulated with the patient's information and transfer and store multiple patient files and other pertinent information about the case to their lab quickly and securely. In addition to enhancing digital workflows for general dentistry, the integration can simplify communication for practitioners using Reveal Clear Aligners from Henry Schein Orthodontics. With this system, providers can more easily send patient information through Planmeca Romexis and the DDX portal. 630-529-2300; planmeca.com.
From Dimensions of Dental Hygiene. July 2021;19(7):44-45.