Implementing New Technologies to Improve the Safety of Patient Care
An innovative cordless handpiece and disposable prophy angles with splatter wipers ensure the highest level of infection control.
Adopting new technology can be a challenge in the dental hygiene operatory as many clinicians have been performing procedures the same way for many years. Old habits can die hard, but change and innovation should be welcomed with open arms when it comes to infection control.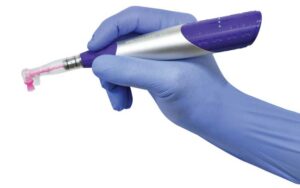 The Risk of Cross-Contamination
According to United States Centers for Disease Control and Prevention guidelines, dental handpieces should be cleaned and heat-sterilized between patients.1 Research shows that air-driven, low-speed handpiece motors can become contaminated internally while used with prophy angles. These internal contaminants may also be released later from the handpiece, resulting in cross-contamination.2 
Infection Control Protocol
The sterilization process can be time-consuming, as well as cost-prohibitive due to the need for multiple handpieces to cover a dental hygienist's schedule. Cordless handpieces make this process less cumbersome, as removable sheaths and barriers significantly improve the effectiveness of infection control protocol. 
Pac-Dent's newest cordless handpiece model, ProMate CL™, comes with three autoclavable sheaths that can be easily removed and heat-sterilized for a quick turnover, making  infection control, ultimately, more convenient (Figure 1).
With traditional disposable prophy angles (DPAs), splatter is an ongoing infection control concern, as well as a huge nuisance for dental hygienists. Pac-Dent has a solution for this dilemma: the AntiSplatr™ DPA. This product is designed with both a firm and soft cup, along with a splatter wiper that eliminates excess saliva and paste that accumulate on the outside of the prophy cup. This technology is a complete game-changer for dental hygienists as it reduces splatter by up to 100%. 
When it comes to polishing a patient's teeth, using a cordless handpiece and DPA with a splatter wiper provides the dental hygienist with a winning combination. Patients deserve the best when it comes to their care and infection control is an essential part of that. n
References
United States Centers for Disease Control and Prevention (CDC) . CDC Statement on Reprocessing Dental Handpieces. Available at:

 

cdc.gov/oralhealth/infectioncontrol/statement-on-reprocessing-dental-handpieces.htm. Accessed February 22, 2022.

 

Chin JR, Miller CH, Palenik CJ. Internal contamination of air-driven low-speed handpieces and attached prophy angles. J Am Dent Assoc. 2006;137:1275–1280.
Pac-Dent
909-839-0888
From Dimensions of Dental Hygiene. March 2022;8(3)24.