Ensure the Safety of Polishing
Pac-Dent's ProMate™ CL and AntiSplatr™ disposable prophy angles help clinicians protect their own health as well as their patients.
Since the onset of the COVID-19 pandemic, the dental industry has learned that additional infection control measures must be taken to better protect oral healthcare providers and their patients. While some recommendations may be complex and costly, others are simple and affordable. When it comes to polishing, Pac-Dent provides a cost-effective infection control solution through its ProMate™ CL cordless hygiene handpiece, and AntiSplatr™ disposable prophy angles.
In many practices, it's not uncommon for the hygienist to use the same air-driven prophy handpiece patient after patient, day after day. After each use, it's simply sprayed and wiped with disinfectant before being reused. A study performed on the microbial contamination of dental handpieces found that pathogens were located deep within handpieces' internal mechanisms and researchers stressed the importance of proper sterilization after each patient use.1 Additionally, the cords connecting the handpiece to the power source can harbor the same harmful microbes. Pac-Dent's ProMate CL remedies these issues with its completely cordless system that includes disposable protective barrier sleeves and three autoclavable sheaths that can be rotated and sterilized throughout the day. This eliminates the need for purchasing multiple handpieces and prevents contaminants from accumulating on and within the system.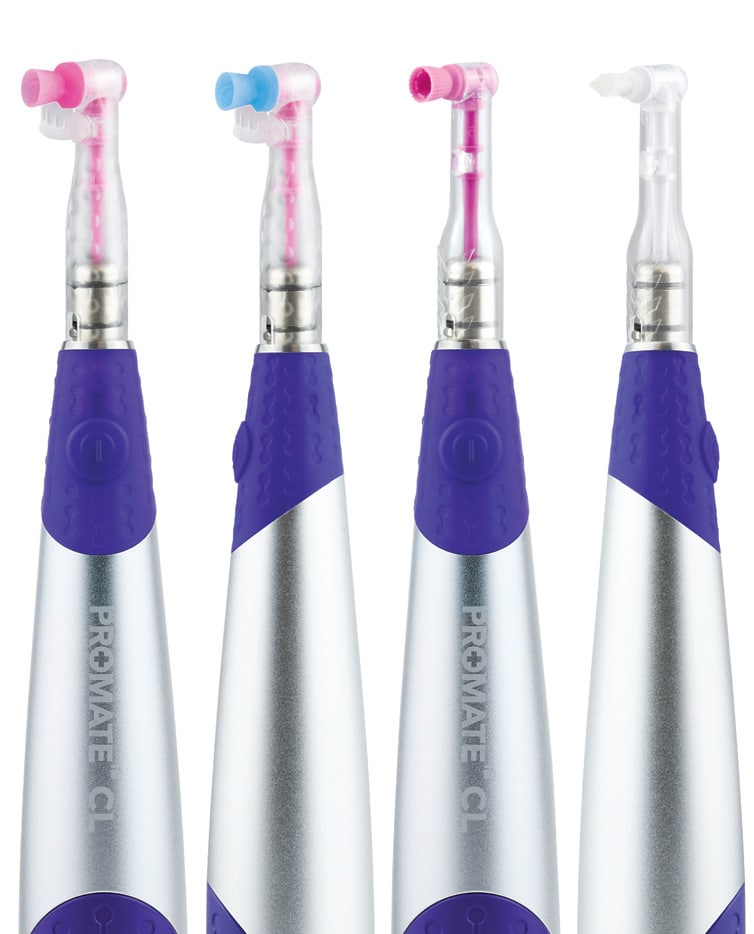 While any popular prophy angle can be adapted to this polishing system, Pac-Dent's AntiSplatr disposable prophy angles are a perfect companion when advanced infection control is desired. Aerosol and splatter have become larger concerns in the wake of COVID-19, as the spray of saliva and blood may transmit disease during dental procedures.2 To effectively manage this concern, the AntiSplatr prophy angle employs a patented wiper that is positioned just below the polishing cup, prohibiting the accumulation of prophy paste and contaminated saliva on the cup, which would, ultimately, lead to material being flung from the angle during use. This breakthrough protects clinicians from contaminants. Available in both soft- and firm-cup options, the exterior of the cup is lightly textured to stimulate gingiva during the polishing process and to keep saliva attached to the apparatus during use.
Pac-Dent has also introduced an all-new Oscillating AntiSplatr Mini disposable prophy angle that offers the same protection housed in an ultra-compact design that utilizes a bidirectional spinning motion. This technology abandons the traditional one-way rotation concept used by other prophy angles, and it reduces splatter by up to 100%, is considerably smoother and quieter during use, and generates significantly less friction upon contact than traditional angles. With lowered heat production, clinicians can increase contact without sacrificing patient comfort. This mini angle is available in both soft- and firm-cup options, as well as a tapered brush cup.
Using advanced technology delivered in simple, easy-to-use products allows the clinician to provide expert patient care while simultaneously minimizing exposure to harmful pathogens. Polishing is an area where infection control enhancements can be implemented effortlessly, thanks to the ProMate CL cordless hygiene handpiece and AntiSplatr prophy angles. These tools offer innovative clinical function and complete protection in a way that best serves the patient, provider, and practice budget.
Pac-dent
 800-437-1514
References
Smith G, Smith A. Microbial contamination of used dental handpieces. Am J Infect Control. 2014;42:1019–1021.
Holliday R, Allison JR, Currie CC, et al. Evaluating contaminated dental aerosol and splatter in an open plan clinic environment: Implications for the COVID-19 pandemic. J Dent. 2021;105:103565.
From Dimensions of Dental Hygiene. November/December 2022;20(11)27.