2016 Defend Dental Catalog Now Available From Mydent International
2016 Defend Dental Catalog Now Available From Mydent International   HAUPPAUGE, NY — Mydent International has released its new 2016 DEFEND product catalog. New products include T Mix Mixing Tips, 7 Hole Air Water 3 Way Syringe Tips, Soft Touch
2016 Defend Dental Catalog Now Available From Mydent International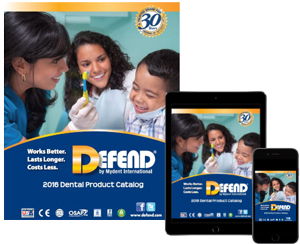 HAUPPAUGE, NY: — Mydent International has released its new 2016 DEFEND product catalog. New products include T-Mix Mixing Tips, 7 Hole Air/Water 3-Way Syringe Tips, Soft Touch Oral Evacuator Tips, Glider Barrier Envelopes and more.
By using DEFEND products, healthcare professionals are able to take advantage of Mydent's Rewards Program. For nearly two decades, the Rewards Program has offered special incentives and gifts through a bonus points system. More information is available inside the DEFEND product catalog.
The 2016 DEFEND catalog offers everyday essentials for the dental operatory. To request a printed copy, click here. The catalog is also available in virtual flipbook format and PDF at www.defend.com/catalog.
Mydent International is dedicated to fully maintaining its brand promise: "To provide the healthcare professional with the highest quality infection control products, disposables, preventatives, impression material systems, rotary instruments and restoratives at affordable prices, supported by superior service and 100% Customer Satisfaction."
DEFEND. Works Better. Lasts Longer. Costs Less. For more information on Mydent International and the DEFEND brand of products, call 800-275-0020, or visit www.defend.com.
# # #