University of Maryland, Baltimore, Serenta License Agreement Welcomed in Quest for Vaccine To Combat Deadly Antibiotic-Resistant Staph Infections
University of Maryland, Baltimore, Serenta License Agreement Welcomed in Quest for Vaccine To Combat Deadly Antibiotic Resistant Staph Infections Baltimore, Md., June, 7, 2017 –The University of Maryland, Baltimore (UMB) has granted worldwide, exclusive licensing rights for a new vaccine
University of Maryland, Baltimore, Serenta License Agreement Welcomed in Quest for Vaccine To Combat Deadly Antibiotic-Resistant Staph Infections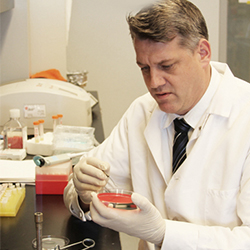 Baltimore, Md., June, 7, 2017 –The University of Maryland, Baltimore (UMB) has granted worldwide, exclusive licensing rights for a new vaccine technology to Serenta Biotechnology, LLC, a Gaithersburg, MD-based startup. The announcement was made by University of Maryland (UM) Ventures on May 31, 2017. 
The license is based on technology co-owned by UMB and Northern Arizona University and is the basis for a multivalent vaccine against infections caused by Staphylococcus aureus, a bacterial strain often resistant to antibiotics. 
The National Institutes of Health (NIH) estimates that up to 80 percent of all microbial infections are chronic and others have estimated that chronic infections result in over 500,000 deaths per year in the United States alone. One of the most prevalent causes of chronic, persistent bacterial infections is Staphylococcus aureus, due in part to its ability to form antibiotic-resistant biofilms. 
During 2006, more than 1.2 million Americans contracted methicillin-resistant S. aureus (MRSA) infections that required hospitalization, according to epidemiological studies published in the American Journal of Infection Control.1 In addition, more than 100,000 of hospitalized patients did not survive. Furthermore, these numbers do not include non-hospitalized infected patients with MRSA or those patients with methicillin sensitive Staphylococcus aureus (MSSA) strains. Today, there is no single antibiotic effective against all S. aureus strains. These infections result in high morbidity and mortality rates and impose a huge economic burden on the healthcare industry. 
"Without clinical innovations, we may see a return to the pre-antibiotic era where S. aureus bacteremia resulted in a 90 percent death rate," said Mark Shirtliff, PhD, lead inventor, co-founder and chief scientific officer of Serenta Biotechnology. He is a professor in the Department of Microbial Pathogenesis in the University of Maryland School of Dentistry (UMSOD) with a secondary appointment as professor in the University of Maryland School of Medicine (UMSOM). 
"Serenta's collaboration with the University of Maryland has been instrumental in advancing our vision of commercializing a methicillin-sensitive and methicillin-resistant Staphylococcus aureus (MSSA and MRSA) vaccine," Shirtliff said. 
"This is a very promising vaccine candidate that has potential to prevent a range of Staphylococcus aureus infections, including those that are resistant to most antibiotics available for treatment (MRSA)—and has the potential to save many lives," said Patrik Bavoil, chair of UMSOD's Department of Microbial Pathogenesis. 
"Mark has developed a unique approach to protective immunity against Staphylococcus aureus that emerged from his groundbreaking research on the fundamental biofilm biology of this organism," said Bavoil, PhD, a UMSOD professor with a secondary appointment as professor at UMSOM who is editor-in-chief of the journal, Pathogens and Disease. 
The licensed technology is a multivalent vaccine consisting of four specific antigens expressed when the organism exists within a biofilm, and one antigen expressed when S. aureus is in its free-floating form. In a mouse model of bone implant infection, the vaccine prevents MRSA infection following challenge; that result has not been achieved by any other vaccine to date. Using an antigen discovery platform in collaboration with UMB, Serenta plans to develop a pipeline of vaccines toward other harmful pathogens, such as Streptococcus pyogenes, Klebsiella pneumoniae and Acinetobacter baumannii. 
"We're excited to work on an intelligent new approach to vaccine development that may save lives," said Florian Schödel, MD, PhD, co-founder and chairman of Serenta. "This approach is unique in that it stems from observations on bacterial lifestyle in the host, not just reverse genetics, recombinant antigens and individual bacteria in the test tube. We believe this will result in the development of novel means to prevent and possibly treat MRSA and MSSA infections." 
"Serenta has committed to addressing a critical area of unmet medical need worldwide," said Phil Robilotto, DO, MBA, chief commercialization officer for UM Ventures, Baltimore. "This is a strong, experienced management team and we look forward to seeing the Company advance this very important technology quickly towards clinical trials." 
1Tweeten, S. & Jackson, M. National prevalence of methicillin-resistant Staphylococcus aureus in inpatients at US health care facilities, 2006. American Journal of Infection Control 35, 631-637 (2007).