Pac-Dent International, Inc.: 25 Years of Excellence
Pac Dent International, Inc. 25 Years of Excellence Brea, California, Jan. 17, 2017 – Jan. 17, 2017 marks the 25th anniversary for Pac Dent International, Inc.Since 1992, Pac Dent International, Inc. has been offering the highest quality dental products and
Pac-Dent International, Inc.: 25 Years of Excellence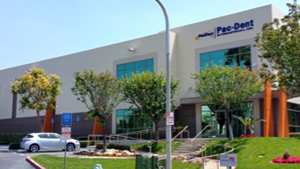 Brea, California, Jan. 17, 2017 – Jan. 17, 2017 marks the 25th anniversary for Pac-Dent International, Inc.
Since 1992, Pac-Dent International, Inc. has been offering the highest quality dental products and superior services to our customers to help them achieve their goals. Our continual commitment to excellence has earned us the reputation as one of the premier dental product manufacturers in the industry. 
Founder and President, Daniel Wang remarked: "We have achieved this milestone through the hard work and dedication of our associates, and our culture of customer-comes-first that exists throughout the entire organization. The past 25 years has been dedicated to product innovation and manufacturing efficiencies to provide the dental industry with the highest quality products and service." 
Pac-Dent will continue to work on the next generation of dental technology to further improve oral care. Our passion for excellence and thirst to provide improvements are still strong within us as we push forward into the next 25 years. The industry has already seen proof of this in 2016 through the acquisition of Gingi-Pak, and we will continue to add new products to our arsenal to better the quality of oral care and well-being of us all. 
Everyone at Pac-Dent takes great pride to contribute with continuously upgrading products, manufacturing processes and services to provide customers with leading edge manufacturing technology, innovative engineering and design expertise. 
Again, Thank You, to the employees and customers who have helped make Pac-Dent what it is today. We are encouraged and excited about building a mutually successful future together with you. 
As a token of our appreciation and to celebrate our 25th anniversary in 2017, Pac-Dent will roll out a series of promotions that truly exhibit the very best we have to offer.