One For All Foaming Hand Sanitizer by Ho Dental Company
A New Kind of Hand Sanitizer Kills Germs Between Hand Washings.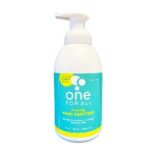 Ho Dental Company is launching a new kind of hand sanitizer to the dental industry, One For All Foaming Hand Sanitizer. One For All is an alcohol-free formulation that does what 70% alcohol-based sanitizers can't: It protects users for hours, in-between hand washings.
According to the company, One for All kills more than 99.9% bacteria, fungi, and viruses (including human coronavirus) in less than 15 seconds. Its active ingredient, benzalkonium chloride, is one of three FDA-compliant ingredients for hand sanitizers and kills germs on contact. One For All is fortified with patented Nanodex™ technology, which has been shown in laboratory testing to kill germs for up to 24 hours. Nanodex forms a long-lasting barrier on the skin that continues killing germs until it is washed off.
In addition to providing superior protection, One For All boasts moisturizing properties to help healthcare professionals avoid the drying and cracking of skin that's common with repeated use of alcohol-based sanitizers. The formula features Jojoba Oil, a natural moisturizer. Tea Tree and Rosemary Oils are natural biocides with skin-healing properties, and Vitamins C and E offer skin-rejuvenating benefits.
One for All was developed by ACatechol Inc, where Ho Dental's CEO Phillip Ho, DMD, serves as executive vice president of Product Development. The ACatechol team includes internationally recognized scientists and clinicians. The company has been awarded with grants from both the National Science Foundation and the National Institute of Health to develop the next generation of sanitizers in the fight against infectious diseases such as COVID-19. One For All Sanitizer is registered with the FDA and is manufactured in the USA at an FDA-registered facility.
One For All hand sanitizer is available in 16.9 oz. (500 ml) foam pump bottles for $19.99 MSRP. One For All is currently on sale for $17.99. For more information, or to purchase the hand sanitizer, visit hodentalcompany.com.