New and Improved Sealant Released
Premier offers a new opaque sealant offering easy placement and extended release of therapeutics.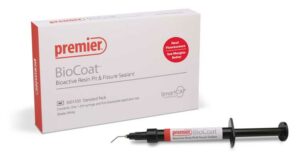 Now in a new opaque white shade that fluoresces under a black light for easy verification of placement and sealant integrity, BioCoat remains the only bioactive resin pit and fissure sealant that delivers daily remineralization. This technology provides the benefits of extended release of calcium, phosphate and fluoride ions to strengthen tooth enamel and protect against acid attacks. BioCoat features excellent handling and adhesion properties for reliable results. Learn more.