Hu-Friedy Launches Most Sophisticated Solution for Instrument Management
Hu Friedy Launches Most Sophisticated Solution for Instrument Management Innovative Infinity Series™ Cassettes designed for enhanced safety and maximized efficiency in the dental office   CHICAGO (Feb. 26, 2015) – Hu Friedy, a global leader in the manufacturing of dental
Hu-Friedy Launches Most Sophisticated Solution for Instrument Management
Innovative Infinity Series™ Cassettes designed for enhanced safety

and maximized efficiency in the dental office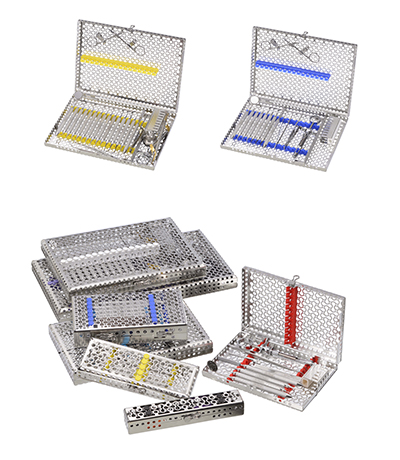 CHICAGO (Feb. 26, 2015) – Hu-Friedy, a global leader in the manufacturing of dental instruments and products, introduces the next generation of instrument management with its new IMS® Infinity Series™ Cassettes designed for the most effective instrument processing and infection control.
"Proper infection prevention is a top priority in dentistry," shares Ken Serota, president of Hu-Friedy. "Hu-Friedy continues to lead the industry through innovation of dental instrument management systems that ensure better infection prevention while maximizing efficiency and ROI for the dental practice."
Capitalizing on 30 years of success in instrument management and infection prevention, Hu-Friedy developed the new IMS® Infinity Series™ Cassettes to support the evolving instrument processing guidelines, and to increase dental practice efficiency while protecting patients, staff and instrument investments.
"Standardizing procedural instrument set ups with cassettes can help bring a dental practice to the next level in professionalism and patient care while saving time and money," says Jennifer Naylor, Hu-Friedy vice president, infection prevention and instrument management systems business unit. "As dentistry's innovator of cassette-based instrument management systems, we further-perfected our IMS cassette line with enhancements to increase water flow, access and ergonomics for more effective instrument processing, while increasing the safety in dental offices."
The IMS Infinity Series™ Cassettes are made from high quality, electropolished stainless steel which is more durable and less prone to breakage or warping. Hu-Friedy redesigned three key features of the cassettes to support the standards for instrument cleaning and handling:
A modern hole pattern with 30 percent additional open area promotes increased water flow throughout the cassette. It is more compatible with all cleaning equipment, including automated washers.
An innovative silicone rail design reduces instrument contact by 59 percent allowing for more access to instruments while holding them safely in place.
A user-intuitive latch design for a more comfortable, ergonomic grasp and single-hand opening. Users can tell at a glance if the cassette is locked or unlocked.
Featuring contemporary design and functionality, the IMS Infinity Series Cassettes were selected as a finalist in the 2014 Medical Design Excellence Awards®, the Medical Technology industry's premier design competition recognizing innovation in medical device design.
The prevailing dental industry experts recommend instrument management systems involving cassettes because they minimize handling during the cleaning and sterilization process. Reduced handling increases safety for dental staff and patients, and saves an average of 5-10 minutes per procedure.
It is critically important that dental practices adhere to the evolving standards and protocols of infection prevention and incorporate the most effective instrument sterilization techniques. Even with the advancements in instrument management, it is estimated that more than 87,000 U.S. dental practices continue to use manual instrument sterilization and processing methods. These manual methods of cleaning and storing dental instruments may meet the minimum industry safety criteria, but are time-consuming and have an increased potential for human error.
"Our commitment to the dental industry goes beyond product innovation. Hu-Friedy is dedicated to educating dental practitioners on infection prevention protocols, conducting in-practice audits of instrument management procedures, and providing resources for infection prevention," Serota continues. "Helping dentists provide the safest environments for their patients and staff is a priority for us."
Hu-Friedy's Instrument Management System® (IMS) is a complete solution that provides a safer, faster and more efficient way to process and organize instruments. IMS combines sterilization, storage and organization in one integrated cassette system. By standardizing instrument management from cleaning to chairside, dental practitioners generate more time and revenue while extending the useful life of their valuable instruments.
# # #