Hu-Friedy Introduces New Cleaning Monitors
Hu Friedy Introduces New Cleaning Monitors Easy to Use Strips Verify the Cleaning Process for Optimal Infection Prevention   CHICAGO (Feb. 2, 2016) – Hu Friedy, a global leader in the manufacturing of dental instruments and products, today introduced their
Hu-Friedy Introduces New Cleaning Monitors
Easy to Use Strips Verify the Cleaning Process for Optimal Infection Prevention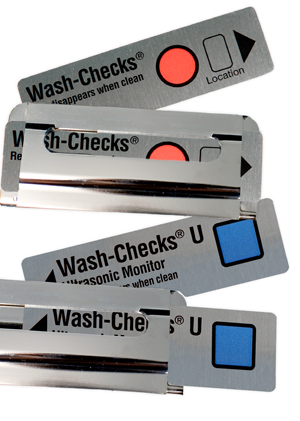 CHICAGO (Feb. 2, 2016) – Hu-Friedy, a global leader in the manufacturing of dental instruments and products, today introduced their new Cleaning Monitors, the latest addition to its Instrument Management System (IMS) Cleaning & Care Product Line.
Designed for monitoring the efficiency of the cleaning process when using washer-disinfectors and ultrasonic cleaners, the Cleaning Monitor system consists of equipment specific monitor strips and a reusable holder. The monitor strips contain a test soil that mimics the presence of blood and tissue that may be found on an instrument surface after its use. Full removal the test soil from the strip indicates an effective cleaning process.
Proper cleaning is the first step to effective instrument reprocessing; if debris is not removed, the instrument surface cannot be effectively sterilized. The current accepted standard for the degree of the cleanliness of instruments is "visibly clean", however, not all components of blood and tissue are easily visible. Used on a daily or per-load basis, Hu-Friedy Cleaning Monitors give insight into the effectiveness of the cleaning process.
Monitoring and verifying the cleaning process are important elements of quality assurance, and advisory bodies recommend that cleaning processes be continually modified to add new safeguards.
"With more than 30 years of experience delivering infection prevention solutions to our customers, Hu-Friedy understands the importance of the first step in instrument reprocessing," says Ken Serota, President of Hu-Friedy Mfg. Co. "Our easy to use and easy to interpret Cleaning Monitors offer a cost-effective way for clinicians to monitor the cleaning process to ensure they are providing the highest level of care to their patients."
The equipment-specific Cleaning Monitor strips are available in packs of 50 for both washers and ultrasonic cleaners. Visit www.hu-friedy.com/CleaningMonitors for more information.
# # #