Harmon Starts Appointment with Dental Hygiene Program
Harmon Starts Appointment with Dental Hygiene Program   September 2, 2015 – Professor Jennifer Harmon recently began her new appointment as full time adjunct assistant professor in the Dental Hygiene Program of the Department of Dental Ecology. "I am thrilled
Harmon Starts Appointment with Dental Hygiene Program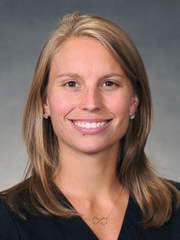 September 2, 2015 – Professor Jennifer Harmon recently began her new appointment as full-time adjunct assistant professor in the Dental Hygiene Program of the Department of Dental Ecology.
"I am thrilled to step into my new position as adjunct assistant professor," said Harmon. "The UNC School of Dentistry is my second home, and I can't wait to make an impact on our dental and dental hygiene students' lives through my love of teaching."
In this role, Harmon will teach in the dental hygiene and other dental school student teaching programs as well as engage in scholarship and provide service to the community.
Professor Shannon Mitchell, director of the Dental Hygiene Program, and Dr. Lauren Patton, chair of the department, both say they're "delighted" that Harmon is on the faculty and is able to share her talents and enthusiasm for dental hygiene practice with the school's students.
Harmon received her Bachelor of Arts in Exercise and Sport Science from UNC Chapel Hill in 2007, her Bachelor of Science in Dental Hygiene from UNC in 2013 and just completed her Masters of Science in Dental Hygiene Education at UNC in 2015 during which she served as a graduate teaching assistant. She has served as a private practice dental hygienist and dental assistant.
Harmon's master's research project, Circulating Omentin-1 and Chronic Temporomandibular Disorder Pain, under the direction of Dr. Anne Sanders, earned Harmon the 2015 IADR Behavioral Epidemiologic and Health Services Research group's Outstanding Student Abstract Award. She also received a 2015 UNC Spurgeon Student Appreciation Award for her role as Graduate Teaching Assistant. Prior to her graduation from the master's program, Harmon was honored with Sigma Phi Alpha membership, was a Hinman Scholar, and received both the Dental Hygiene Alumni Award and Dwight Clark Memorial Award. At the school's recent commencement activities, Harmon served as the representative of the master's degree candidates, delivering an inspiring and enthusiastic address to the candidates, faculty and family members.
# # #