Dr. Ann Eshenaur Spolarich Receives 2016 Penn Dental Medicine Alumni Award of Merit
Dr. Ann Eshenaur Spolarich Receives 2016 Penn Dental Medicine Alumni Award of Merit   Philadelphia June 6, 2016 — Dr. Ann Eshenaur Spolarich, a 1982 dental hygiene alumna of Penn Dental Medicine, has been recognized by the Penn Dental Medicine
Dr. Ann Eshenaur Spolarich Receives 2016 Penn Dental Medicine Alumni Award of Merit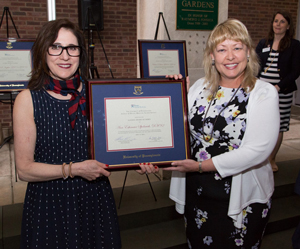 Philadelphia June 6, 2016 — Dr. Ann Eshenaur Spolarich, a 1982 dental hygiene alumna of Penn Dental Medicine, has been recognized by the Penn Dental Medicine Alumni Society with a 2016 Alumni Award of Merit. The award was presented as part of Alumni Weekend 2016, held at Penn Dental Medicine in May.
The Alumni Award of Merit is presently annually by the Penn Dental Medicine Alumni Society and recognizes love for and loyalty to Penn Dental Medicine, excellence in the profession of dentistry, and community involvement. The award acknowledges graduates who have maintained their ties with the School through their support of alumni activities, demonstrated leadership in the dental profession, and fostered and maintained the ideals that the School has stood for since its founding. Dr. Spolarich is the first dental hygiene graduate to receive the award since it was first presented in 1944.
Since earning her dental hygiene certificate at Penn, Dr. Spolarich has gone on to become a leader in the field. She holds an MSc in dental hygiene and a PhD in physiology from the University of Maryland at Baltimore, and is presently Professor and Director of Research at the Arizona School of Dentistry and Oral Health, A.T. Still University. She is Course Director of Clinical Medicine and Pharmacology there as well. Dr. Spolarich also serves as Associate Director of the National Center for Dental Hygiene Research & Practice. In addition, she works as an independent research and educational consultant, recognized for her expertise in the areas of pharmacology and the care of medically complex patients. Her many previous awards include two from the American Dental Hygienists Association for advancing the art and science of the profession and the Dental Hygiene Alumni Achievement Award and the Charlotte Sullivan Award from Penn.
This year's other recipient of an Alumni Award of Merit was Dr. Jeffrey S. Ingber (GD'71, GD'72), Director of the Penn Dental Medicine Clinical Honors Program and Clinical Professor in the Department of Preventive and Restorative Sciences.
# # #