Dispelling Myths of Root Canals Through Education
Dispelling Myths of Root Canals Through Education The American Association of Endodontists Celebrates Root Canal Awareness Week   CHICAGO Despite state of the art advancements in endodontic treatment that make root canal procedures often as straightforward as fillings, Americans still
Dispelling Myths of Root Canals Through Education
The American Association of Endodontists Celebrates Root Canal Awareness Week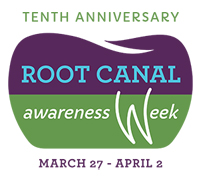 CHICAGO – Despite state-of-the-art advancements in endodontic treatment that make root canal procedures often as straightforward as fillings, Americans still express fear of the procedure. According to a recent survey by the American Association of Endodontists, 67 percent of Americans say fear of pain most concerns them about having root canal treatment.
The AAE hopes to dispel these fears during its tenth anniversary celebration of Root Canal Awareness Week, March 27 – April 2. Root Canal Awareness Week is a nationwide effort to encourage patients who need a root canal to see an endodontist to save their natural teeth. Endodontists have at least two years of additional training beyond dental school and are highly skilled specialists in performing root canals and diagnosing and treating tooth pain. Their mix of advanced training, techniques and equipment improve patient comfort, ease anxiety and alleviate pain.
"Endodontists, the root canal specialists, devote their practice to root canal treatment and related procedures," said AAE President Dr. Terryl A. Propper, a private practicing endodontist in Nashville, Tenn. "We use technologies like microscopes, digital and 3-D imaging and ultrasonics to diagnose and treat our patients quickly, comfortably and successfully."
AAE research shows that dentists refer an average of 43 percent of root canal patients to an endodontist, yet almost all general dentists surveyed, 94 percent, say they have a positive or very positive perception of endodontists and the care they provide.
"Even if your dentist does not recommend a root canal specialist, ask about the benefits of consulting one," said Dr. Propper. "Americans are taking more control of their health care, and that should include oral health. Patients who need root canal treatment should consider seeing an endodontist."
Tips for Selecting an Endodontist
Cover the basics. Look for an endodontist who is both convenient and accessible. Inquire about specialists near your home or workplace, and find out if the endodontist's office is open during alternative hours, such as evenings or weekends. Ask whether specific endodontists accept your insurance plan or offer financing options. You may utilize the Find an Endodontist tool at www.aae.org to aid in the search.
Look for a solid track record. Ask how long the endodontist has been performing root canals and how frequently he or she does the procedure. If your general dentist is suggesting a root canal, find out as much as possible about why you need it; then choose an experienced endodontist who has dealt with issues similar to yours. AAE members receive ongoing news and education on the latest research and technologies to help them stay at the forefront of the specialty. Some endodontists are also Board certified, which means they have successfully passed a number of rigorous exams beyond their specialty training. Use the Find an Endodontist tool at www.aae.org to find an AAE member.
Ask about equipment. The most up-to-date endodontic equipment includes operating microscopes and rotary instrumentation that make getting to the "root" of a dental problem easier and faster. Endodontists are more likely than general dentists to have the most advanced equipment, but find out specifically how the endodontist's equipment will help during the procedure. Find out more about what you can expect during your visit with the specialist at http://www.aae.org/patients/root-canal-awareness-week.aspx.
Your endodontist will collaborate with your dentist on a treatment plan, and after a root canal, both should continue to monitor the success of the procedure.
For more information about the AAE and Root Canal Awareness Week, follow the AAE on Twitter at @savingyourteeth or search #rootcanal. To find an endodontist in your area, ask your general dentist for a referral, or use the Find an Endodontist feature at www.aae.org.
# # #