Colgate-palmolive Announces 2015 Colgate Oral Health Advisory Board Members
Colgate palmolive Announces 2015 Colgate Oral Health Advisory Board Members DenTek, the worldwide leader in innovative oral care products, acquires tongue cleaner brand, Orabrush New York, New York (July 20, 2015) — Dental Hygienists are critical partners that share Colgate
Colgate-palmolive Announces

2015 Colgate Oral Health Advisory Board Members
DenTek, the worldwide leader in innovative oral care products, acquires tongue cleaner brand, Orabrush
New York, New York (July 20, 2015) — Dental Hygienists are critical partners that share Colgate-Palmolive's commitment to help patients achieve optimal oral health. As part of its continued commitment to improving oral health in the community, Colgate-Palmolive has named 12 hygienists from a wide range of communities across the U.S. to its 2015 Colgate Oral Health Advisory Board.
The Board Meeting recently held June 8-9,2015, allowed these new board members the opportunity to share their ideas with Colgate and each other. Held at Colgate's Global Research and Technology Center in Piscataway, New Jersey, these Board Members also met with key opinion leaders and Colgate research and development experts, and were given an inside look at Colgate's product research and innovation process.
The practicing hygienists named to Colgate's Oral Health Advisory Board were selected based on self-nomination and the recognition submitted by their colleagues, commitment to dental hygiene and leadership within their profession. Two practicing dental hygiene authors/lecturers completed the Board composition.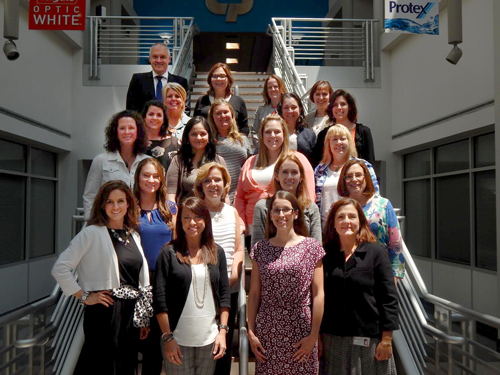 Front Row:
Karla Gooden, RDH, Mandy Dennis, RDH, Susanna Scherer, RDH, Tess Black, RDH -COHA Host
Second Row:
Jessica Raymond, RDH, Linda Romatowski, RDH, Amber Sanchez RDH, JoAnn Gurenlian, RDH
Third Row:
Jo Cleasby, RDH, Parul Bharadwaj,-Colgate, Danielle Rauch, RDH, Ann Spolarich, RDH
Fourth Row:
Tracy Clay, RDH, Jennifer Kloskey, RDH, Kim Curtis-Colgate, Matilde Hernandez-Colgate, Delphine Birckel- Colgate
Fifth Row:
Burhard Selent-Colgate, Marisela Hernandez-Colgate, Michelle Morgan-Colgate, Barbara Schearer-Colgate
The 2015 members of the Colgate Oral Health Advisory Board include:
Tracy L. Clay RDH; Dallas, Georgia
Jo Cleasby RDH; Plainfield, Illinois
Mandy M. Dennis RDH; San Antonio, Texas
Karla J. Gooden RDH; Los Angeles, California
Jennifer Kloskey RDH; Madison, Wisconsin
Danielle Rauch RDH BA; Petoskey, Michigan
Jessica L. Raymond CRDH BASDH; Clearwater, Florida
Linda Romatowski RDH; West Windsor, New Jersey
Amber Sanchez RDH BA; Fort Wayne, Indiana
Susanna Scherer RDH; Wyckoff, New Jersey
Ann Eshenaur Spolarich, RDH, PhD; Cave Creek, Arizona
JoAnn R. Gurenlian, RDH, PhD; Haddonfield, New Jersey
The Colgate Oral Health Advisory Board, established in 2009, is a critical element in Colgate's well-established Colgate Oral Health Advisor program (COHA). This complimentary, innovative program offers educational benefits exclusively for the dental hygienist. Its most recent enhancement, the COHA Facebook Community, provides COHA members a unique forum for networking with fellow dental hygienists as well as an opportunity to have direct access to Colgate.
For more information, please visit www.colgateoralhealthadvisor.com.
# # #