Barbara Nordquist Honored for Exceptional Service to the American Dental Education Association
Barbara Nordquist Honored for Exceptional Service to the American Dental Education Association One of 10 honored, Ms. Nordquist is the sole industry representative recognized for her role in pursuing ADEA's goals. 24 March 2015 — During this year's American Dental
Barbara

Nordquist

Honored

for

Exceptional

Service

to

the

American

Dental

Education

Association
One

of

10

honored,

Ms.

Nordquist

is

the

sole

industry

representative

recognized

for

her

role

in

pursuing

ADEA's

goals.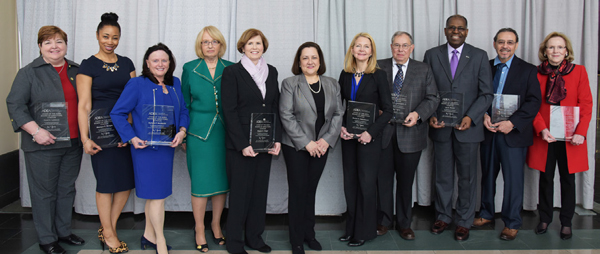 24 March 2015 — During this year's American Dental Education Association (ADEA) Annual Session, Barbara Nordquist, KaVo Kerr Group's Vice President for Academic and Professional Relations, was honored for her exceptional service to ADEA.
Each year, the Chair of the ADEA Board of Directors acknowledges a select group of individuals who demonstrate extraordinary leadership in pursuit of the Association's goals. Each honoree has enriched ADEA by contributing a unique blend of talents, skills, hard work and unwavering commitment to the advancement of dental education. Currently, Ms. Nordquist serves on the ADEA Board of Directors as the Board Director for the Corporate Council. Out of the 10 women and men honored this year, she was the sole industry representative.
"I've had the pleasure of working with each of these individuals over the years. Each has enriched the work that ADEA does," said Dr. Lily T. Garcia, Chair of the ADEA Board of Directors. "Ms. Nordquist lends high energy to all of her work and especially in supporting collaboration between ADEA's corporate and institutional members."
"We believe Barbara is so deserving of this award, for her many efforts on behalf of dental education, ADEA and the KaVo Kerr Group," said Dave Bangert, VP/GM of Strategic Markets for KaVo Kerr Group. "We've seen how effective she can be as an advocate on our behalf, and she is an asset to every organization she works with. We are proud to have her on our team."
Ms. Nordquist has been active in the dental industry – in both the United Kingdom and U.S. – for the last 38 years. She's been part of the KaVo Kerr Group family since 2008, strengthening individual brands' relationships with the dental professionals who offer vital feedback and support.
# # #