Thee Next Generation of Handpieces is Here
The ACCLEAN™ Hygiene Handpiece 2 offers power, durability, and ergonomic benefits.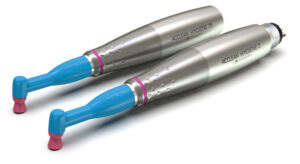 Dental hygienists are dedicated to providing their patients with the highest level of preventive care, and ACCLEAN offers the armamentarium to help clinicians meet this goal while also protecting their own health. 
The ACCLEAN Hygiene Handpiece 2 by Henry Schein offers a wide array of benefits (Figure 1). It is durable, powerful, and lightweight—designed to support clinical care regardless of patient type. 
The handpiece offers excellent torque for smooth operation, while still weighing less than other handpieces, supporting ergonomic practice. And maintenance is simple and straightforward, so dental hygienists can focus on their patients, not caring for equipment.
Features
Stainless steel connection for durability and longevity
Excellent torque provides responsive, smooth operation throughout speed range
Thoughtful design for lightweight comfort and powerful productivity
Easy maintenance with a simple and highly efficient no-lube motor plus simple-to-change bands in five colors for easy identification and organization
Swivel model is availabile with quick disconnect for better maneuverability
Autoclavable
Compatible with all standard disposable prophy angles
Complementary products include ACCLEAN™ Hygiene Handpiece Coupler and color-coded Hygiene Handpiece 2 Bands available in 10-packs in pink, red, orange, blue, and green

System Designed for Success
The ACCLEAN Hygiene Handpiece 2 is part of ACCLEAN's new enhanced packaging designed to help hygienists quickly and easily identify the products they need through three color-coded stages of care: Clean and Polish, Treat and Protect, and Home Care (Figure 2). The handpiece is part of the Clean and Polish category, which also includes:
Prophy Pastes
Ultrasonic and Handheld Scalers

 

Ultrasonic Inserts
Prophy Angles
Floss for Chairside Use
Single-Use Aerosol Evacuator
Plaque Disclosing Solution
Accessories

 
Henry Schein Inc
henryscheindental.com/ACCLEAN
800-372-4346
From Dimensions of Dental Hygiene. June 2022; 20(6)22.