A Winning Combination
From supporting a sustainable product to taking digital images with ease, Kimera Bio is a perfect solution for you and the environment.
From supporting a sustainable product to taking digital images with ease, Kimera Bio is a perfect solution for you and the environment.
Taking digital images can be time consuming and difficult, often requiring the clinician to assemble and reconfigure the sensor holder for each image. Kimera Bio offers a solution that makes taking images fast and easy (Figure 1). The first product in TrollDental's product line manufactured using only eco-friendly renewable raw materials, Kimera Bio reduces negative effects on the environment.
This sleek, easy-to-use, fully autoclavable, no-assembly system saves time while delivering excellent images. Kimera Bio is color-coded with an aiming ring and bite block for anterior images. The yellow holder alone takes 12 images without ever removing the sensor from the claw. The holders have a stiff arm—enabling the sensor to easily position precisely—and a softer flexible claw to fine tune the fit of your sensor.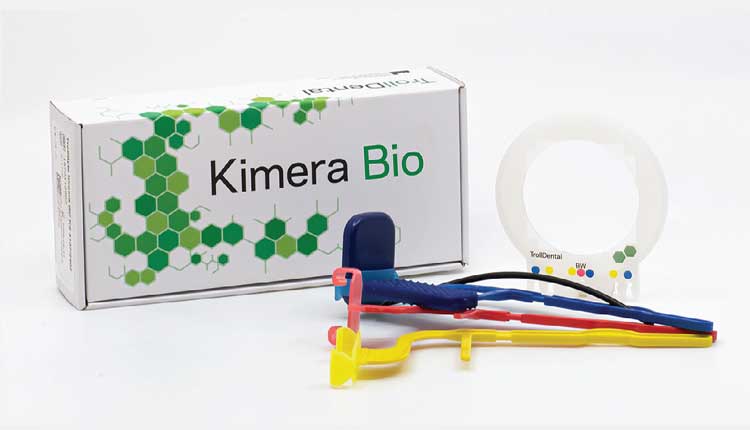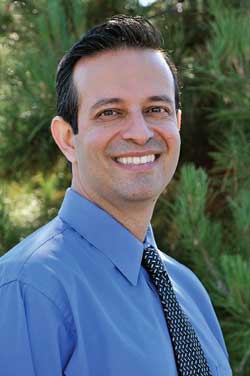 Easy to Use and Environmently friendly
Shahram Shahriyarpour, DDS, has been using TrollDental sensor holders for 15 years in his private practice, Barranca Canyon Dentistry in Irvine, California, and finds that Kimera Bio holders "last a long time and create little waste in general. The added feature of being manufactured using renewable raw materials is a nice contribution to the environment."
Dental practitioners have a long history as trusted professionals who take pride in their communities and caring for their patients. As consumer focus shifts to sustainability, dental teams are joining in by implementing eco-friendly products and practices.
Additionally, Dr. Shahriyarpour values that Kimera Bio holders require no assembly, "right out of the box, into the sterilizer, and they are ready to use. The holders are durable enough to withstand hundreds of autoclave cycles and provide a more predictable and efficient process."
Dr. Shahriyarpour also appreciates the "easy loading of the sensor and the ability to use the same holder for posterior periapical Xrays and bitewings, which is a time saver. The color-coded aiming ring allows for quick change and positioning during imaging of a full-mouth series of images."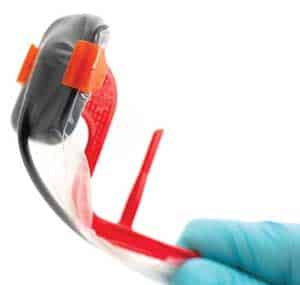 Perfect Images Every Time
Kimera Bio offers a fit for every sensor on the market. The custom snug fit of the claw makes inserting the sensor easy, helping you capture the perfect image. Paired with TrollDental's TrollBag (sensor cover), you have the best solution to take an accurate image every time (Figure 2). TrollBag and Kimera Bio are manufactured using materials that work together to provide a snug fit in the claw of the sensor to keep the sensor from sliding and moving in the patient's mouth. With only three different holders you can take any type of image. It's not everyday you come across a product that meets so many needs and is environmentally friendly. To put it simply, Kimera Bio is durable, effective, easy to use, and saves time.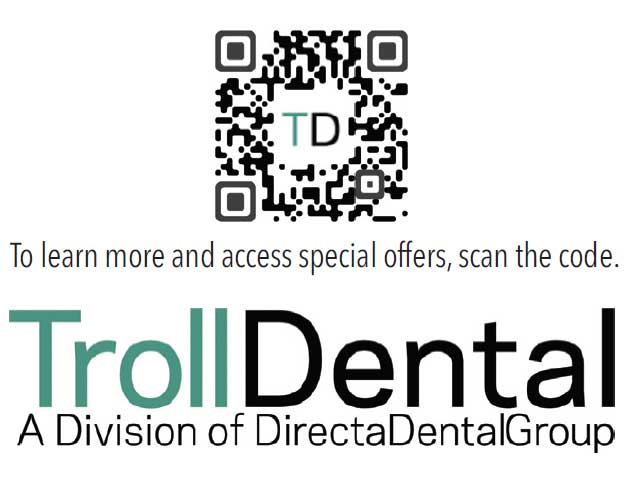 TrollDental, a Division of DirectaDentalGroup
800-537-8765
From Dimensions of Dental Hygiene. August 2022; 20(8)25.