American Dental Association Releases CDT 2016: Dental Procedure Codes
American Dental Association Releases CDT 2016 Dental Procedure Codes   CHICAGO, Sept. 8, 2015 — Available now from the ADA, CDT 2016 Dental Procedure Codes is an indispensable resource for dentists and dental offices working with third party payers required
American Dental Association Releases CDT 2016: Dental Procedure Codes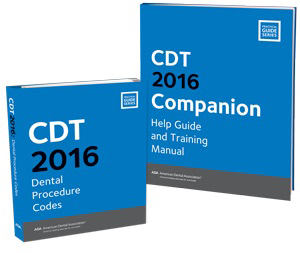 CHICAGO, Sept. 8, 2015 — Available now from the ADA, CDT 2016: Dental Procedure Codes is an indispensable resource for dentists and dental offices working with third-party payers required to use CDT codes.
The Code on Dental Procedures and Nomenclature contained in CDT 2016 is the only HIPAA-recognized code set for dentistry, and CDT 2016 highlights 19 new, 12 revised and eight deleted codes. The CDT 2016 Companion: Help Guide and Training Manual includes detailed coding scenarios and answers the most common coding questions to ensure ease of use. An award-winning smartphone app, available for both iOS and Android, also allows dental professionals to access CDT codes in the palm of their hand. An e-book and several product bundles complete the CDT 2016 offerings.
The early fall availability of these tools allows time for staff training before the codes go into effect on Jan. 1, 2016. CDT 2016 products can be ordered at adacatalog.org or by calling the ADA Member Service Center at 1-800-947-4746.
# # #