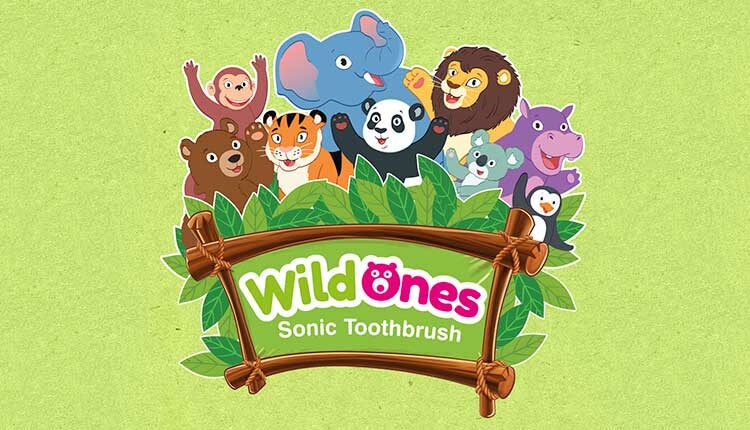 Use Brush-Baby From First Tooth to First Tooth Loss
Brush-Baby (brushbaby.co.uk) designs, manufactures, and supplies dental-care products for children from birth through 10 years of age, helping parents care for gums and teeth, from pre-teething, through teething and onto a full set of teeth … and first tooth loss!
Recognizing the different daily needs of little ones compared to adults, Brush-Baby is a leading innovator in supporting and encouraging early years dental care by offering unique, ergonomic designs and natural ingredients in its products.
The company behind the first Chewable Toothbrush for toddlers has developed a unique range of dental-care products for babies, toddlers and young children. Company founder Dominique Tillen notes, "Brush-Baby was started after I found my own infant daughter wasn't interested in learning to brush — she just wanted to chew the toothbrush! I looked for products, but became very aware there was nothing suitable for this young age group."
Dental care is moving on to include the use of xylitol, cleaning baby mouths, and introducing flossing early — and, above all, making dental care fun and interactive — thus helping to establish a lifetime of good oral hygiene habits.
Since its launch in 2009, the company has grown significantly and now supplies major retailers, dentists, pharmacies, specialist baby shops and distributors worldwide.
Here's a closer look at the lineup:
3-STEP GUM AND DENTAL-CARE PATHWAY
Brush-Baby offers a simple easy-to-follow 3-step pathway, with specially made products to help children (and parents) get into good habits.
Step 1: Cleaning babies' mouths. This helps reduce the build-up of bacteria that causes tooth decay and prepares the mouth for new baby teeth.
Brush-Baby DentalWipes (0–16 months). Xylitol-impregnated wipes to clean baby mouths and first baby teeth.
Step 2: Brushing and teething. Parents and caregivers need to introduce brushing from when the first tooth emerges, which is not always easy in a teething tot!
TeethingWipes: as per DentalWipes, but with added camomile to soothe sore teething gums.

TeethingToothpaste (0–3 years) Applemint flavored, contains camomile to soothe sore gums and xylitol. It has lower fluoride, is SLS- and paraben-free as its counterpart the Baby & Toddler Toothpaste, and offers a gel-like consistency and a non-foaming formulation.

Dentally designed teethers: Molar Munch, Front Ease and Cool and Calm are all designed to provide comfort for each of the different stages of teething.

FirstBrush & Teether: Ideal dental care starter set.

Chewable Toothbrush (10 months–3 years) is a versatile chewable toothbrush and teether that toddlers can use themselves. This unique dentist-designed brush fits little mouths correctly and helps to clean teeth, massages gums, and soothes teething gums as it's chewed. It may be used with or without toothpaste for brushing, and can be cooled in the 'fridge for soothing relief during teething.

BabySonic Baby's First Electric Toothbrush (0–3 years), has a sucker bottom, small vibrating brush-head that's perfect for small mouths, and a follow-on brush head for use when all the teeth have come through. In addition, a two-minute timer function makes this product a safe and gentle introduction to electric toothbrushing.
Step 3: Brushing and flossing: Brushing is only half the job. Food collects between teeth, and to prevent decay and gum disease, parents and caregivers should introduce flossing once two baby teeth start to touch. Again, not always easy, but Brush-Baby can help with its unique, deep-cleaning bi-level bristles on its toothbrushes, plus flavorsome toothpastes.
KidzSonic and WildOnes electric and rechargeable toothbrushes feature integrated two-minute timers, flashing lights, sucker bottoms and brightly colored designs that encourage regular toothbrushing. Every character and age range from 3 to 10 years is covered with designs that include the Dinosaur, Flamingo, Unicorn, Rockets and with nine animal characters in the WildOnes.

FlossBrushes (0–3, 3–6 years and 6+ years) include a range of manual toothbrushes with flossing bristles that help remove the plaque between teeth that regular brushing misses. Easy-grip handle and a soft, interdental flossing bristle design, featuring short bristles that clean the surface of the teeth, and long bristles to reach between the teeth and gumline.

Brush-Baby Toothpastes for children were developed for ages 0–3 years, 3–6 years and 6+ years. Containing xylitol and appropriate age-level fluoride content, these paraben- and SLS-free, non-foaming toothpastes come in fun tutti-frutti, blueberry, mild spearmint and strawberry flavors to encourage children to brush. In response to customer demand, a fluoride-free strawberry version is available, too.

Go-Kidz is a handy travel toothbrush with hygienic cover and stickers to personalize, so it's perfect for sleepovers or anytime the child is away from home.